Ballasts convert fluorescent lights into emergency lights.
Press Release Summary: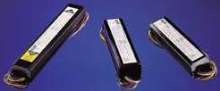 Embassy Series ballasts turn standard fluorescent fixtures into emergency lighting. When AC power fails, battery packs shift to emergency mode, providing 90-120 min of emergency run time for one or 2 lamps. When AC power is restored, unit recharges battery in 24 hr. Usable with switched or unswitched fixtures, compact models are available in quad, twin-tube, or triple twin-tube fixtures. Lumen output ranges from 300-750 (compact) and 350-3,500 (standard).
---
Original Press Release:

Emergency Ballasts from Mule Offer Economical and Reliable Safety


-- Ballasts turn new or existing fluorescent lights into emergency lights
-- Provide 90 to 120 minutes of emergency run time

Providence, RI - Embassy Series emergency ballasts from Mule Lighting are a cost-effective way to convert standard fluorescent fixtures into emergency lighting, offering reliable performance and safety. When AC power fails, the compact battery packs automatically shift to emergency mode, operating either one or two lamps, and provide 90-120 minutes of emergency run time.

"Our Embassy Series is an economical way to turn new or existing fluorescents into emergency lights," says Rob Cross, Vice President of Mule Lighting. "The ballasts provide interim lighting during temporary power failures. And, when installed along corridors or other key escape paths, they afford invaluable visibility to exit safely during longer lasting power outages or emergency situations."

When AC power is restored the unit automatically recharges the maintenance-free battery in just 24 hours, for optimum convenience and reliability. The ballasts do not affect the operation of fluorescent lighting when installed and can be used with either a switched or unswitched fixture.

Embassy's rugged, compact case houses a special high-temperature, sealed nickel cadmium battery, charger, and electronic circuitry. A charge indicator light and test switch are standard features, for an added layer of security.

The ballasts are available in both standard and compact lamp models. Compact models are available in quad, twin-tube or triple twin-tube fixtures. Lumen output ranges from 300 to 750 for compact models, and 350 to 3500 for standard. Installation is not recommended where ambient ballast channel temperature may fall below 0 degrees Celsius.

Mule Lighting, Inc., is a custom manufacturer of quality lighting and battery related products, including Exit Signs, Emergency Lighting, Battery UPS Systems, Battery Chargers and Rechargeable Batteries. Mule's line of patented LED (light emitting diode) bulbs offers energy saving and cost-efficient alternatives to traditional incandescent lighting fixtures. Several of Mule's patented lighting options have earned the Energy Star of approval for conservation. Mule is the winner of a prestigious Building Magazine Top 100 Products Award, and their LEDison(r) LED bulb was named one of TED Magazine's Lighting Products of the Year.

For additional product information, contact:
Mule Lighting, Inc.
46 Baker Street
Providence, RI 02905

Tel: (800) 556-7690 or (401) 941-4446
Fax: (401) 941-2929
Website: www.mulelighting.com
Email: rob@mulelighting.com

More from Services