Ball Valve Labels are UV resistant.
Press Release Summary: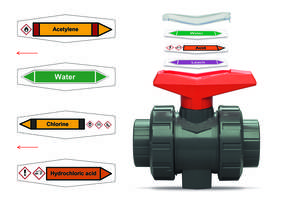 Ball Valve Labels are compatible with type 546 ball valves sizes 3/8 in.-2 in., type 543 3-way ball valves, and type 523 metering ball valves. Units are used to identify function, media, flow direction, hazards and other instructions. Products are chemical and weather resistant. Suitable for piping system, labels come with transparent clip and allow users to print their own images and text.
---
Original Press Release:
New Ball Valve Labels Improve Safety and Efficiency
GF Piping Systems has announced availability of customizable labels for the company's 5-Series Ball Valves. The new labels can identify function, media, flow direction, hazards, or other instructions to improve safety and efficiency in the workplace.
Users can tailor labels with their own images and text or use the pre-printed labels with common flow-arrow or hazard symbols available online. Labels are chemical, weather and UV resistant, making them durable and long lasting. They are easily installed by simply replacing the valve handle clip with a transparent clip included in the kit.
The new labeling system offers an easier means of communication over typical improvised means like hand-written labels on pipes or stainless steel tags wrapped around the valve. With plenty of space on the label for imprinting information and symbols, operator instructions can be conveyed very clearly. In pipe installations with multiple lines, identifying whether a line is water or acid becomes an added safety factor that can reduce accidents. The system can also be used to promote an OEM's own brand or for private labeling.
"It's surprising that something as simple as a label could make such a difference in the workplace, not only for increasing operator and piping system safety, but also for improving operation and maintenance efficiency," says Jeffrey Sixsmith, GF Piping Systems Product Manager for Valves and Actuation. "Whether it is a 'DO NOT OPEN' safety label or a 'CHLORINE' identification label, the message is clearly visible right on the valve."
Valve labels are compatible with GF Piping Systems' new or existing manual Type 546 Ball Valves sizes 3/8"–2" (d16–d63), Type 543 3-way Ball Valves, and Type 523 Metering Ball Valves. Customers can order packages of transparent lever clips in four sizes and packages of 10 or 100 perforated print sheets in choice of four sizes.
For more information on the new ball valve labeling system: http://www.gfps.com/country_US/en_US/products/valves/manual-ball-valve/5seriesballvalve.html or contact GF Piping Systems at toll Free (800) 854-4090; e-mail: us.ps@georgfischer.com; Web: www.gfps.com
About GF Piping Systems
GF Piping Systems supplies a full range of plastic pipe, fittings, valves, actuators, fusion machines, secondary containment, heat exchangers, custom products, and sensors and instrumentation for industrial process control. For further information, please contact: GF Piping Systems, 9271 Jeronimo, Irvine, CA 92618-1904 USA; Toll Free (800) 854-4090, Fax (714) 731-6923; e-mail: us.ps@georgfischer.com; Web: www.gfps.com
Contact:
Jeffrey Sixsmith
Product Manager
Georg Fischer LLC
9271 Jeronimo
Irvine, CA 92618-1904 USA
1800- 854-4090
Phone: +1 714 368 4266
Jeffrey.Sixsmith @georgfischer.com
More from Laboratory and Research Supplies and Equipment