Ball Transfers combat contamination.
Press Release Summary: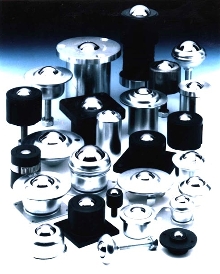 Ball Transfers are available in double-seal units, which feature top seal to keep large particles from getting inside and inner seal to skim liquid and fine dust from ball. Units are available with self-cleaning holes, or with multi-holes, which promote removal of debris. All ball transfers are offered in steel, stainless, or nylon in incremental ball sizes from 1/2 to 2 in. to handle load capacities ranging from 50 to 4480 lbs.
---
Original Press Release:

Newest Ball Transfers from SKF Motion Technologies can Combat Contaminants


A wide range of types and sizes of ball transfers for mounting on floors or other surfaces is available from SKF Motion Technologies (Bethlehem, PA) to enable easy movement of cargo and equipment as a practical alternative to wheel castors. The newest units in the product line are further designed to combat contamination from dust, dirt, and liquids that can threaten service life.

These newest ball transfers to combat contaminants include double-seal units, which feature a top seal to keep large particles from getting inside and an inner seal to skim liquid and fine dust from the ball, which is then expelled through side vents; units with self-cleaning holes; and types designed as multi-hole or "colander hole" units, which promote removal of debris quickly, effectively, and regularly.

All ball transfers from SKF Motion Technologies are offered in steel, stainless, or nylon in incremental ball sizes ranging from 1/2"-2" to handle load capacities (depending on the specific unit) ranging from 50 lbs. up to 4480 lbs. Many types can be spring-loaded and their variety and design allows for units to be customized to meet specific application and configuration requirements in any industry setting.

Depending on type of unit, the ball transfers can be mounted easily with bolts, tubes, plates, clamps, flanges, or spring-clips, among other methods

Contact James M. Brown, SKF Motion Technologies, 1530 Valley Center Parkway, Bethlehem, PA 18017-2266. Phone: (800) 541-3624 (toll-free) or (610) 861-3712. Fax: (610) 861-3737. Web site: www.linearmotion.skf.com

More from Optics & Photonics