Balancing Machine offers automatic mill correction.
Press Release Summary: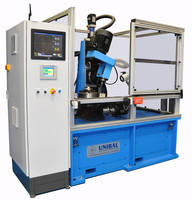 Featuring 2.2 x 2.4 x 1.3 m footprint, self-contained V100S Vertical Axis Balancing Machine provides 99.65% unbalance reduction ratio and is capable of handling any component weighing up to 100 kg that requires correction of unbalance by milling. Milling head delivers 300 Nm cutting torque, accommodates axial through radial positions, and cuts arc angles up to 180°. Capable of balancing in 1 or 2 planes, machine utilizes 10 in. air chuck with 2.5 micron repeatability.
---
Original Press Release:

Integrated Mill Head Automatically Corrects Unbalance



Bristol, UK - 11 November 2009: International provider of innovative solutions, Universal Balancing introduces its V100S vertical axis balancing machine with automatic mill correction. Offering high accuracy and repeatability, it is capable of handling any component weighing up to 100kg that requires correction of unbalance by milling.

Self-contained, the V100S can be fully integrated into high speed automated production lines with the deployment of pick and place robots. Workpiece loading/unloading and manual correction is avoided and machines can be added or removed from the line in order to meet changing production volumes - ensuring a continuous and streamlined operation.

An outstanding feature of this versatile machine is the very high unbalance reduction ratio it provides - 99.65% - probably the highest currently available on a vertical balancing machine.

The milling head which gives 300 Nm cutting torque, is able to accommodate axial through to radial positions and cuts arc angles of up to 180 degrees in the part on the rotary table. In addition, it can be adjusted to allow different cut angles for a range of components. The height and radii of the milling cut changes automatically for each part. High suction extraction vacuum removes virtually all metal chips produced by the mill cutting process.

A 10" precision air chuck offers 2.5 micron repeatability with interchangeable jaws clamping on the inside or outside diameters of parts - even those incorporating a shaft (ie pump impeller). With a compact footprint of 2.2 x 2.4 x 1.3 metres (including extractor), the V100S is capable of balancing in 1 or 2 planes.

Further underlining the system's speed and flexibility, the jaws can be changed in less than 2 minutes and milling cutter in less than 1 minute. The mill head position adjusts in a matter of seconds at the touch of a button, due to the use of servo motors.

The V100S is being used within a broad range of industries to balance components such as brake drums and discs; impellers; differential parts - or others with or without their own journals that require correction by milling.

Measuring system

The touchscreen operated measuring system for the V100S features simple intuitive displays available in imperial, metric and multiple unit options (ie gmm, gcm, ozinch); automated machine procedures for tooling compensation and calibration; and advanced proving routines.

Part/batch serial numbers can be recorded for quality and process control purposes. All information for individual jobs including setup, correction and calibration is stored permanently, allowing fast retrieval when required. Results can be logged to a file, SQL database, printer, network or serial port in an easy to edit format, while advanced diagnostics allow fault analysis to be carried out both on site and remotely through the internet. Furthermore, four-level password protection locks down functions within a module or for whole pages.

Technical specification:

Minimum part diameter - tooling dependent

Maximum part diameter - ~600mm

Minimum correction radius - 0 radial, 0 axial

Maximum correction radius - axial 600mm radial 600mm

Single plane repeatability MU - 1.8gmm

Reduction ratio single plane - URR 99.65%

Cycle time - less than 1 minute, depending on material and amount of initial unbalance

About Universal Balancing

Universal Balancing provides industry with a full range of balancing equipment combined with an excellent service. Machines include manual horizontal and vertical to fully automated turnkey solutions. All machines have a track record of balancing millions of components per year and some of the first originally manufactured by Jackson & Bradwell in the 1950s are still in operation today. With its headquarters in Bristol UK and offices and agents in the US, Europe and other parts of the world, Universal Balancing can provide an total solution for all balancing requirements - by telephone, email, web, remote diagnostics and attendance on-site by one of the company's global service engineers.

More from Sensors, Monitors & Transducers