Bag Filling & Closing Machine produces aseptic IV bags.
Press Release Summary: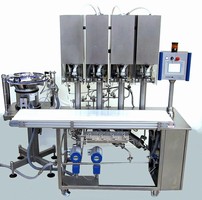 Type 529 Semi-Automatic IV Bag Filling and Closing Machine is used for aseptic packaging of infusions, parenteral drugs, and other pharmaceutical and biotech fluids. It handles bags from 100 mL to 10 L made of EVA, PVC, PP, and other materials, producing up to 2,000 aseptic bags/hr. Contact parts are 316L SS or FDA-approved synthetics and can be autoclaved. Modular unit enables integration of up to 4 additional filling/closing stations.
---
Original Press Release:

Alphacos Introduces Semi-Automatic Aseptic IV Bag Filling & Closing Machine



August 7, 2006 - Alphacos introduces its new Type 529 Semi-Automatic IV Bag Filling and Closing Machine for aseptic packaging of infusions, parenteral drugs and other pharmaceutical and biotech fluids. Ideal for hospitals, laboratories and manufacturers in clinical trials that require aseptic fills, the modular Type 529 is easy to use, easy to clean, versatile and affordable.

The Type 529 Semi-Automatic IV Bag Filling and Closing Machine handles IV bags from 100 ml to 10 liters made of EVA, PVC, PP and other materials, producing up to 2000 aseptic bags per hour. Introducing a commercially viable alternative to traditional aseptic vials, Alphacos' new IV bag system offers a new concept in aseptic filling. Compared to vials, aseptic IV bags reduce material costs and ease product handling and transportation.

The modular Type 529 has the flexibility to expand as production needs grow. As higher outputs are required, additional semi-automatic filling/closing stations can be added - up to four filling/closing stations can be integrated within the machine footprint using the original electronics. Even with four stations, the easy-to-use semi-automatic system requires only one operator.

Alphacos can equip the versatile Type 529 IV Bag Filling and Closing Machine with a number of options to meet each customer's requirements. The company offers a choice in dosing technology - mass flow or peristaltic pump. The system can be adapted to many stopper types. And for highly sensitive products, Alphacos can equip the system with an air evacuating and pre- and/or post-gassing system. To ease sanitation, a clean-in-place (CIP) or sterilize-in-place (SIP) system can be integrated.

To maximize product safety, the Type 529 IV Bag Filling and Closing Machine features a fully integrated automatic closing system that eliminates possible contamination. All product contact parts are 316L stainless steel or FDA-approved synthetics. And all contact parts can be autoclaved, which eliminates the need to irradiate parts during sanitation. The system meets or exceeds FDA, cGMP, PIC and GAMP pharmaceutical guidelines.

Alphacos designed the Type 529 IV Bag Filling and Closing Machine for ease of use. The flat color touch screen control panel offers an intuitive user interface that is easy to learn and easy to use. To operate the semi-automatic system, an operator need only insert the bag - the system automatically fills, closes and handles the closures.

Changeovers are fast and simple on the Type 529. Volume changes are accomplished via the touch screen control panel. Closure changes can be accomplished in only 15 minutes, no tools and no change parts required.

About Alphacos
Alphacos SA, based in Courroux, Switzerland, designs, manufacturers and markets top quality packaging equipment for the pharmaceutical, biotechnology and chemical industries. In North America, the equipment and related services are available from Adical Inc, based in San Diego, California. Adical ensures the technology and services comply with all U.S. requirements and standards.

Alphacos Reader Inquiries:
Laurent Veuillet
Alphacos SA
Rue de la Source 1
CH-2822 Courroux
Switzerland
Tel.: +41 (0)32 421 44 52
Fax: +41 (0)32 421 45 15
laurent.veuillet@alphacos.ch
www.alphacos.ch

Adical Reader Inquires:
Marc Machauer
Adical
9225 Dowdy Drive, Suite 214
San Diego, CA 92126
USA
Tel: 858 566 5666
Fax: 858 777 3571
mmachauer@adical.com
www.adical.com

More from Printing & Duplicating Equipment