Baffled Liner maximizes FIBC efficiency.
Press Release Summary: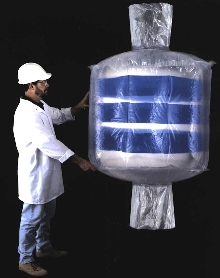 Designed for flexible intermediate bulk containers, MaxLiner(TM) cube liner has added internal baffles for protection. Combination of high and low density polyethylene gives MaxLiner strength and flexibility, while square shape produces stable, stackable container. Standard color is natural, but black and custom colors are available.
---
Original Press Release:
Baffled Liners Maximize Container Efficiency

DALLAS, TEXAS, -- B.A.G. Corp. unveils the MaxLiner(TM) formed liner for flexible intermediate bulk containers (FIBCs--bulk bags). The MaxLiner is a cube liner with added internal baffles, which provide the benefits of a square container with the added protection of a barrier for FIBCs. The square shape of the MaxLiner produces a very stable, stackable container that minimizes shipping costs and maximizes storage space. The combination of high and low density polyethylene gives the MaxLiner strength, flexibility and excellent barrier properties. The standard color for this liner is natural, but black and custom colors are available. In addition, B.A.G. Corp. offers special design constructions, including the joining of dissimilar materials.

See B.A.G. Corp. at:
Powder Bulk Solids Show 2002, Booth #1 1012, May 7 - May 9, Rosemont Convention Center, Rosemont (Chicago), Illinois.

About B.A.G. Corp.
B.A.G. Corp.(R) is the single source solution for all bulk packaging needs since 1969. B.A.G. Corp. develops and manufactures Super Sack® containers, woven polypropylene flexible intermediate bulk containers (FIBCs) for the shipping, handling and storing of dry, flowable and fluid products. The company also produces specialty liners for boxes, drums and FIBCs. Other members of the B.A.G. Corp. family of companies include: FIBC Recycling, Inc., which cleans and reconditions FIBCs in a closed-loop system and disposes of bulk bags in an environmentally friendly manner; and Winzen Film, a specialty film extruder that also produces multi-filament thread and webbing.

For more information please contact:
Jodi Simons, Marketing Director