BAE Has Selected Spectrex AFES to Its MRAP Vehicles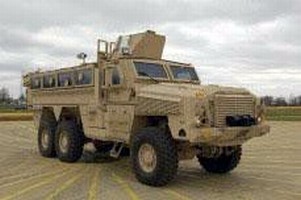 Cedar Grove, NJ (September 28, 2007) - Spectrex Inc. has been selected by BAE Systems to supply specially designed Automatic Fire Extinguishing Systems (AFES) to the Mine Resistant Ambush Protected (MRAP) Vehicles recently supplied to the US Marine corps. BAE Systems is one of the major suppliers to the U.S. Marine Corps and the Army of Category I 4x4 and Category II 6x6 Mine Resistant Ambush Protected (MRAP) RG33 Vehicles.

BAE Systems' RG-33L is a 6x6, C-130 transportable, mine-protected vehicle featuring a V-shaped hull and outstanding protection against improvised explosive devices. Its standard equipment includes: a hydraulic ramp, a gunner's protection kit, a robotic arm, on-board exportable power supply for C4I systems, survivability gear, mine-protected seating, air conditioning, and dedicated space for equipment stowage. The Mine Resistant Ambush Protected (MRAP) vehicles provide an enhanced degree of mission flexibility offering both improved survivability and more volume under armor than any other mine-protected vehicle, incorporating the latest designs in protecting against improvised explosive devices.

Advanced troops survivability is obtained through blast-resistant seating technology, transparent armor and specially designed Automatic Fire Extinguishing Systems (AFES) protecting both engine and troop compartments. The crew compartment system is capable of detecting and suppressing all possible types of fires, i.e., small or large, slow or rapidly growing, limited in area or widely spread, as well as fuel explosions which are likely to occur during combat or training service of these military vehicles. The system protects against combat-initiated and slow-growth fires featuring high-speed optical detection in less than 3 milliseconds, explosion suppression within 250 milliseconds, multiple ultra fast extinguishing agent discharge and dispersion. Control electronics provide system activation, self and built-in test capabilities and system monitoring. System components are robust, comply with the latest Mil-Specs and provide for a highly reliable, free-of-false-alarm system. In the engine compartment, the system has the capability of detecting overheat and fire and of successfully extinguishing fuel fires.

About Spectrex Inc.
Spectrex Automatic Fire Extinguishing (SAFE) System is the leading armored vehicle fire and explosion suppression system installed and integrated in more than 10,000 combat and tactical armored vehicles worldwide, including Leopard C1, M48, M60, T62, T72, AMX 30, Kurrassier, Main Battle Tanks M113, BMR, VEC ,VAB Armored Personnel Carriers, Pizarro, Leonidas BFV Armored Fighting Vehicles, M109, M110, FAASV, CPV Artillery vehicles and special purpose vehicles (Engineering, Recovery, Bridge Launching). These systems were proven to have superior performance in government and main contractors testing and evaluation and are qualified by several NATO and other leading armies.

For more information about Spectrex Inc. and its products, visit www.spectrex-inc.com, or contact Eric Zinn at 1(973) 239-8398 or 1(800) 452-2107 (Toll free within the US only).


More from Test & Measurement