Bacteria Screening Systems identify contaminated food in 1 day.
Press Release Summary: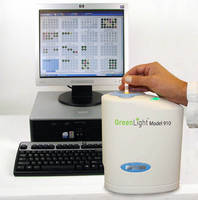 GreenLight(TM) series screening systems, models 910 and 960, determine aerobic bacterial counts in meat, poultry, seafood, dairy, and produce. They provide viable count or aerobic plate count of food sample's microbial load by using sensing assay or vial. Change in oxygen is used to calculate original sample's colony forming units/gram for solids or per milliliter for liquids. Compact, portable units include USB connection to interact with computer software.
---
Original Press Release:

MOCON'S New GreenLight(TM) Series Provides Same-Day Bacterial Detection; Reduces Labor, Improves Speed-to-Market



Minneapolis, MN - MOCON, Inc. (NASDAQ: MOCO) is introducing a new screening system for same-day bacterial detection in food. The new GreenLight(TM) series significantly reduces the testing time and labor needed to determine aerobic bacterial counts in meat, poultry, seafood, dairy, produce, etc. Processors and packers get accurate results and improve speed to market in a cost-effective manner.

The GreenLight(TM) series provides a total viable count (TVC) or aerobic plate count (APC) of a food sample's microbial load by using a sensing assay or vial. As bacteria in the test sample multiply and respire, they consume oxygen. The change in oxygen is used to calculate the original sample's colony forming units per gram (cfu/g) for solids or per milliliter for liquids.

The development of this new, leading-edge technology has been made possible via MOCON's investment in Luxcel Biosciences Limited (Luxcel), Cork, Ireland, which was announced earlier this year. At the time, MOCON stated that as part of its initial post-investment activity, it would dedicate some of its research and development resources to help bring a high-throughput pathogen (Listeria, Salmonella, E. coli, etc.) screening process to the food industry. The GreenLight(TM) series is part of that initiative.

"Companies will now have a faster, less labor intensive screening method than the traditional agar plate process which is used by most manufacturing facilities. Depending on the desired detection level, results can be obtained between minutes and eight hours. This is significantly faster than the agar plate method which typically requires 48 hours to achieve a meaningful microbial count. Shorter testing cycles provide packers and processors with the potential of getting their perishable food items to the consumer in less time," said Tim Ascheman, senior project engineer, MOCON.

The GreenLight(TM) series is making its debut with two models-the 910 and 960. The Model 910 is compact and easy to use. It targets smaller labs and processing areas.

The Model 960 has been designed for larger labs which require higher throughput. The system is extremely flexible and utilizes a standard plate reader format which can be automated. It can test 96 or 384 well plates in either a pass/fail or absolute mode. The Model 960 has a throughput potential of 1 to 384 absolute tests in one day.

Additionally, the Model 960 has been approved by AOAC International, Gaithersburg, MD, which provides validation and conformity assessment of commercial and analytical methods.) The Model 910 also is in the process of being qualified.

Both units are compact and portable providing packaging operations with additional flexibility. A USB connection is used to interact with the dedicated computer software.

About MOCON

MOCON is a leading provider of instrumentation and consulting and laboratory services to medical, pharmaceutical, food and other industries worldwide. See www.mocon.com for more information.

This press release contains forward-looking statements that involve a number of risks and uncertainties. Important factors that could cause actual results to differ materially from those indicated by such forward-looking statements include but are not limited to: uncertainties relating to competition and technological change, setbacks in product development program, slower-than-anticipated customer acceptance of new products, dependence on certain key industries, risk associated with the Company's acquisition strategy and international operations, and other factors set forth in the Company's filing with the Securities and Exchange Commission.


More from Fluid & Gas Flow Equipment