Backplanes feature conduction-cooled design.
Press Release Summary: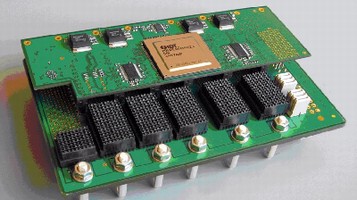 Accelerating development of rugged conduction-cooled embedded systems, VPX Conduction-Cooled Backplanes are available with PCIexpress bus implementation, having 8 lanes per slot and 64-lane switch, allowing up to 7 add-on slots and CPU slot for high bandwidth computing applications. Rear transition modules are standard. Chassis may be customized for fewer slots to reduce width and rear I/O may be modified to reduce depth for special applications.
---
Original Press Release:

NEW VPX Conduction Cooled Backplanes



Laurel, MD and Dietzenbach, Germany

September 30, 2008 -PCI-SYSTEMS Inc. , a leading supplier of conduction cooled systems, today announced NEW VPX Conduction Cooled backplanes, enabling accelerated development of rugged conduction cooled embedded systems.

PCI-SYSTEMS Inc. manufactures a variety of COTS modular designed conduction cooled chassis for VPX, VME, CPCI and CPCIexpress applications, including ATR and ARINC 600 enclosures.

VPX versions are available with a PCIexpress bus implementation on the backplane, having 8 lanes per slot and a 64 lane switch, therefore allowing up to 7 add-on slots and a CPU slot for very high bandwidth computing applications.

Several customized versions for Vita 46 and Vita 48 are available. Maximum slot number is 16 slots x 4 lanes each

Rear I/O transition modules are standard. The rear panel can be easily customized to adapt to your rugged application. Also this chassis may be easily customized for fewer slots to reduce width and the rear I/O may be modified to reduce depth for special applications.

PCI-SYSTEMS Inc. develops and manufactures intelligent CPU and peripheral boards as well as advanced mechanical design solutions in the US and Germany for many platforms that provide precision control of robotic and automated equipment in the semiconductor, medical and industrial equipment markets as well as for ruggedized embedded OEM applications in airborne and defense applications.

Contact:

USA

PCI-Systems Inc.

13 C Street, Suite D

Laurel, MD 20707

Tel: (301) 362-1233

Europe

PCI embedded computer systems GmbH

Lehrstr.31

D-63128 Dietzenbach

Tel:xx-0-6074-35108

FAX:xx-0-6074-35114

Please enquire to sales@pcisystems.com

Website www.pcisystems.com

Related