Backplane and Development Chassis help build µTCA designs.
Press Release Summary: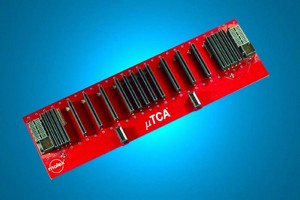 Featuring µTCA press-fit edge card connectors combined with launch geometry, µTCA Backplane uses Micro-Fit 3.0(TM) 14-pin, blind-mate fan tray connectors to mate to hot swappable fan trays. Product enables 10 Gbps over each differential pair to handle up to 4 times bandwidth of backplane wired to meet XAUI specifications. Measuring 17.25 x 7.13 x 10 in., µTCA Development Chassis provides full cooling functionality by allowing air to flow from all 4 sides and exhaust on 3 sides at the top.
---
Original Press Release:

Dual-Star µTCA® Backplane and µTCA Development Chassis Provide Effective Evaluation Platform



LISLE, Ill. - November 14, 2006 - Molex Incorporated (NASDAQ: MOLX and MOLXA) has announced the development of a µTCA Backplane and Development Chassis to allow developers to build and debug µTCA designs before going to production. The backplane has a fully redundant dual star architecture designed to run at 10 Gbps to facilitate the development of state-of-the-art µTCA systems.

"Customers rely on Molex to develop solutions that support architectures with high speed requirements, such as the µTCA standard," said Jairo Guerrero, product manager, Molex Incorporated. "The Molex µTCA Backplane and Development Chassis provide customers with a platform to quickly make all necessary decisions involved in configuring their production systems."

Dual-Star µTCA Backplane

The µTCA Backplane features Molex µTCA press-fit edge card connectors that are combined with precise launch geometry, minimizing reflections and enabling 10 Gbps over each differential pair to handle up to 4 times the bandwidth of a backplane wired to meet XAUI specifications. The µTCA Backplane also features Micro-Fit 3.0(TM) 14-pin, blind-mate fan tray connectors to mate to hot swappable fan trays and ensure complete redundancy.

The µTCA Backplane uses single-wide AMC cards, is 0.42 by 0.012m (16.82 by 5.00") in size and bolts into both the Molex µTCA Development Chassis, as well as the Rittal Development Chassis that is already available in many test labs.

The µTCA Backplane and Development Chassis are ideal for developing applications that use off-the-shelf cards to configure systems for telecommunication applications, such as access products, especially FTTX, cellular and WiMAX base stations; industrial and instrumentation applications; and medical applications.

The backplane has 4 compact slots, allowing either 10 full-height AMC cards (or 4 compact and 8 full-height payload slots). This gives the µTCA Backplane a total of 12 AMC slots. Fabric B on ports 2 and 3 is configured to support SAS or SATA drives in any of the slots, allowing customers to connect processor cards directly to storage drives. It also features slots for 2 MCH modules and 2 power supplies, making it easy to test hand-off features to the alternate MCH or power supply. The µTCA Backplane has a FRU ROM (Field Replaceable Unit Read Only Memory) that facilitates communication of all of the important backplane characteristics to the MCH. By using trace width of 0.10mm (.004"), the µTCA Backplane allows two pairs to route in each channel, minimizing the number of layers needed. Additionally, spacing between pairs is at least 0.25mm (0.10") to minimize crosstalk.

µTCA Development Chassis

Molex and Simon Industries will offer the µTCA Development Chassis with the Molex µTCA Backplane to enable customers to manage the development process. Measuring only 17.25 wide by 7.13 high by 10" deep (438 by 181 by 254 mm), the µTCA Development Chassis is believed to be the smallest, fully featured µTCA development platform available. This µTCA Development Chassis is well-suited for developing and debugging µTCA systems using single-width AMC modules. A chassis for double-wide modules can also be offered using the same backplane. Using the chassis can help in the development of hardware and software, accelerating time to market, as well as enabling developers to evaluate various AMC cards, power supplies, and MCHs.

The µTCA Development Chassis allows full cooling functionality by allowing air to flow from all 4 sides and exhaust on 3 sides at the top of the chassis. It features a slide-out fan tray that includes 10 fans, providing adequate cooling to all of the slots, regardless of card loading, eliminating worries about the absence of front panels. The cooling unit can cool 40 watts per slot.

An AC to DC power converter is included at the rear of the chassis enabling customers to use 110V or 220V at their lab bench or desk. This power supply is capable of distributing 1200 Watts at 48 volts to the DC to DC converters that deliver 12V across the backplane, allowing engineers to evaluate various power supplies, redundancy and fail-over capabilities.

These products are currently available in limited quantities with 4 to 6 week lead times. For more information on the Molex µTCA product offering, please visit: www.molex.com/product/microtca.html.

About Molex Incorporated

Molex Incorporated is a 68-year-old global manufacturer of electronic, electrical and fiber optic interconnection systems. Based in Lisle, Illinois, USA, the company operates 58 manufacturing facilities in 19 countries. The Molex website is www.molex.com.

Jairo Guerrero
Product Manager
Molex Incorporated
011-52-333-668-1408
jairo.guerrero@molex.com

More from Software