Backhoe incorporates multiple automatic features.
Press Release Summary: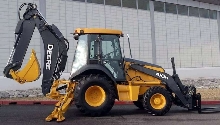 Model 410H incorporates Total Machine Control(TM) that integrates control of machine systems to respond automatically to speed and feel preferences set by operator. Offering 3-speed backhoe hydraulics and dual joystick control, backhoe has automated return-to-carry and boom height kick-out features as well as auto-idle. Tool carrier option, available for loader end, includes parallel lift and hydraulic quick coupler. Dig depth is 15 ft 10 in.
---
Original Press Release:

Backhoe with New Technology Delivers Precise Control


MOLINE, Ill. (March 16, 2005)--John Deere today announced the introduction of the 410H Backhoe, the construction industry's first machine with Total Machine Control(TM) (TMC).

TMC integrates control of every system in the machine, from engine to transmission and hydraulic functions to brakes, according to Bob Tyler, product marketing manager, John Deere Construction & Forestry Company.

"As a result of the TMC technology, all of the systems for the 410H respond automatically to the speed and feel preferences set by the operator," he said. "This type of precise control of the machine's functions allows this backhoe to deliver the best possible productivity and uptime, while minimizing operating costs."

The 410H, the first backhoe on the market to feature this technology, delivers high productivity through faster cycle times. A key feature that boosts cycle times is the three-speed backhoe hydraulics, which enables the operator to choose between three dig speeds. When the machine is started up, it will dig at exactly the same speed as a current Deere 410G will dig, which is effective in general trenching and other similar tasks. Select the fast mode, and the 410H backhoe with TMC will dig 30 percent faster than the current 410G; select slow mode, and the machine will dig 20 percent slower than current production.

"The fast mode obviously results in faster cycle times when bailing dirt and other simple tasks," Tyler said. "When doing careful work, such as craning loads and other similar tasks on a crowded job site, or when training a new operator, the slow mode is very useful for maintaining control and balance."

A tool carrier option is available for the loader end of the 410H, which includes parallel lift as well as the new hydraulic quick coupler, both of which enhance productivity. Traditionally, tool carriers require significant linkage down the side of the loader arms. The 410H tool carrier option eliminates all that linkage, which saves on maintenance costs and makes the machine considerably easier to service. The newly designed loader arms and coupler provide the industry's best truck height visibility. Bucket and attachment options from John Deere's Worksite Pro(TM) line make the 410H one of the most flexible machines of its kind on the market.

In addition to the parallel lift found on the tool carrier option, the 410H also provides some automated features not generally found on a backhoe. One of these features, return-to-carry, enables the operator to simply push the lever forward and let go of the joystick after dumping a load; the boom will automatically return to a position that's just above the ground, ready for another cycle.

Another automated feature offered on the 410H is boom height kick-out, which allows the operator to set the loader boom height to fit working conditions. "For example, if a job requires the loader to go in and out of a specific entry, the boom height can be pre-set so that there's no danger of the boom accidentally making contact with the top of the door," Tyler said.

Auto-idle, an automated feature that enhances fuel efficiency, also is provided on the 410H. If the operator releases the backhoe controls for more than four seconds, the engine automatically reverts to idle, which saves fuel and reduces noise. In addition, the system ensures that if a hose is accidentally damaged, the boom stays in place. Hose burst protection helps further minimize operating costs.

The machine design features all the conveniences of the previous model, with several new features that enhance comfort. Pilot controls are replaced by two joysticks, which are set into each arm rest for maximum convenience. The console also has been updated, with the same sealed switch keypad that's found on Deere loaders and motor graders.

"Face forward, the joysticks control the loader function--swivel the seat around to the back, the joysticks become backhoe controls. What's more, at the touch of a button, the right-hand backhoe joystick becomes the loader control while still facing the rear of the machine," Tyler said.

Serviceability is enhanced by improved in-house diagnostics, according to Tyler. "The 410H has a lot more electronic capability than past machines, which includes more electronic and hydraulic sensors," he said. "Because of those sensors, the system captures a wealth of diagnostic data and stores it for technicians to access later, allowing them to prevent potential service issues on the machine." Additionally, backhoe valves are easier to reach for servicing, since they're located on the backhoe boom rather than buried under the floor of the cab.

John Deere will produce some 410H machines for release in the fall of 2005.

"This machine is the only backhoe on the market that offers this many automated features, not to mention all of the other capabilities that make it the most versatile and productive machine in its class," Tyler said. "The 410H truly is the next generation in backhoe technology."

About John Deere: John Deere (Deere & Company-NYSE:DE) is the world's leading manufacturer of agricultural and forestry equipment; a major manufacturer of construction equipment; and a leading supplier of equipment used in lawn, grounds and turf care. Additionally, John Deere manufactures engines used in heavy equipment and provides financial services and other related activities that support the core businesses. Since it was founded in 1837, the company has established a heritage of quality products and services providing performance that endures to customers worldwide.

Key Specifications:

Net Engine Horsepower: 92 hp. (69 kW)

Backhoe Dig Depth: 15 ft. 10 in. (4.8 m)

Tool Carrier/Loader Breakout Force: 11,200 lbs. (49.8kN)

Backhoe Bucket Digging Force: 14,801 lbs. (65.8 kN)

Loader Dump Clearance: 8 ft. 4 in. (2.54 m)