BAADER Displays their Sizing and Separation Processing Solutions at Process EXPO 2011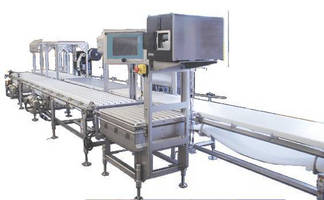 Kansas City, KS -- BAADER North America Corporation and its daughter company, BAADER-Johnson are pleased to present a complete line of Separators and Sizing Solutions at Process Expo 2011.

The Separator line of machinery separates solid from soft components helping the processor to obtain more yield from their product. This gentle form of separation guarantees better texture, higher protein content and less bone material than high-pressure systems. All five sizes of Separators will be on display along with some of the available options that allow customers to handle a variety of products.

BAADER's Sizing line is now a complete solution from Infeed to Finishing. Whether you need to obtain a single weight, target weight or batch weight to a bag, box or tote, BAADER has the total solution to achieve these goals. Two options are offered to the customer for Infeed - either the BAADER High-Speed Infeed or the BAADER 1502 Accufeed. Both infeeds singulate fresh product to the BAADER Sizer. The BAADER Sizer can be configured with single, twin or double-sided lanes. The Cabinplant Multi-head Weigher provides precise weighing for fresh or marinated product to bags, tray packs or cartons. The newest innovation within the Multi-head weigher is the patent-pending sensor gate technology designed for fewer piece portions with one piece per weighing pan resulting in less giveaway.

Finally, BAADER's Box Finishing Line provides the finishing solution for the customers' product. This subsystem properly spaces boxes so they can be check weighed and identified. The boxes will then be positioned so labels can be applied. Any boxes not meeting the specified requirements will be rejected and sent to the rework line to be corrected.

BAADER North America is a member of the BAADER Group based in Lübeck, Germany, a leading global manufacturer and supplier of high-quality processing equipment and systems for the food industry. BAADER has been manufacturing food processing equipment and parts for over 90 years.

PROCESS EXPO is the premier worldwide trade show for leaders in the food and beverage industry. Held Nov. 1-4, 2011, at McCormick Place in Chicago, Illinois, the show will feature the latest processing technologies presented by 450+ exhibitors. A world-class educational program, including a full day of Spanish-language sessions, will provide much of the technical expertise to complement the practical applications seen on the show floor. PROCESS EXPO is produced by The Food Processing Suppliers Association (FPSA), a global trade association serving suppliers in the food and beverage industries. Register today at www.myprocessexpo.com.

More from Electrical Equipment & Systems