B&K Precision Introduces 2680 Series Spectrum Analyzers with Tracking Generator and Preamplifier
Press Release Summary: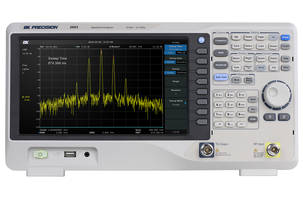 Consist of 2.1 and 3.2 GHz models with 1 Hz minimum RBW and 10.1 in. TFT wide-screen color display
Embedded with PC software that enable front panel emulation, EMI scanning, EMI test reports, 3D spectrum monitor and remote control capabilities
Deliver phase noise of -98 dBc/Hz @ 10 kHz offset and uncertainty of ±0.7 dB
---
Original Press Release:
B&K Precision Expands Spectrum Analyzer Product Line
Includes advanced measurement options and pre-amp for RF design and verification
YORBA LINDA, CA, April 11, 2019 -- B&K Precision, a leading designer and manufacturer of reliable, cost-effective test and measurement instruments today announced the next evolution of RF test equipment: The New 2680 Series of Spectrum Analyzers.
This series includes a pre-amplifier, 2D spectrum monitor and advanced measurements such as channel power, adjacent channel power and occupied bandwidth, which are options on most competing models.
These instruments deliver performance and functionality in a compact, lightweight design. The series consists of 2.1 and 3.2 GHz models, both featuring a large 10.1" TFT wide-screen color display, 1 Hz minimum RBW and tracking generator.
The included PC software supports front panel emulation, 3D spectrum monitor, configuration, EMI scanning, EMI test reports and remote control capabilities via USB or LAN interface. These analyzers can be further expanded with two optional licenses. The reflection measurement license enables VSWR, reflection coefficient, and return loss measurements. The EMI pre-compliance license activates the instrument's quasi-peak detection for EMI measurement functions.
The 2680 series is well suited for applications in 2-way radio, site surveying, EMI pre-compliance, characterizing the frequency response of RF devices and more.
Key features of the new 2680
Frequency range: 9 kHz to 2.1 or 3.2 GHz
Adjacent channel power, total power
Third-order-intercept
2D and 3D spectrum monitor
High sensitivity -161 dBm/Hz displayed average noise level (DANL)
Low phase noise of -98 dBc/Hz @ 10 kHz offset
Low-level uncertainty of ±0.7 dB
1 Hz minimum resolution bandwidth (RBW)
Preamplifier and tracking generator standard on all models
10.1" wide-screen 1024 x 600 color display
The 2.1 GHz model 2682 and the 3.2 GHz model 2683 have attractive list prices at $2,950 and $4,490 respectively and come with a 3 year warranty.
For additional technical specifications, accessories, and support documents, visit:https://www.bkprecision.com/products/rf-test-instruments/spectrum-analyzers/2683-3-2-ghz-spectrum-analyzer.html
About B&K Precision
For more than 60 years, B&K Precision Corporation has been building a reputation for excellence in the design and manufacture of reliable and cost-effective test and measurement instruments. The company's products are used in a wide range of applications including design, research and development, production line testing, industrial maintenance, and electronic field service. B&K Precision test and measurement instruments are standard equipment in a large number of universities and technical schools which train future engineers and technicians. B&K Precision was founded in 1951 and is headquartered in Yorba Linda, California.
Contact:
Renato Araga | raraga@bkprecision.com | (714) 921-9095
More from Fluid & Gas Flow Equipment