Axon Showcases at Expo Pack Guadalajara the New Thermodash Steam Tunnel That Slashes Energy and Water Costs on Packaging Lines of up to 100 CPM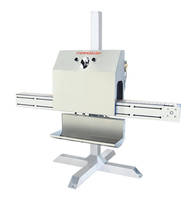 Compared to even the most effective energy and water saving steam tunnels available today, Thermodash can slash electricity costs by more than 80 percent and reduce water consumption by more than 60 percent while producing exceptional shrink-sleeve-label fit. (Axon Expo Pack Guadalajara Booth # 211)



RALEIGH, NC – Axon, powered by Pro Mach, debuts at Expo Pack Guadalajara, March 10-12, the new Thermodash steam tunnel. Thermodash is the first in a series of steam tunnels from Axon designed to conserve energy and water while enabling high-quality shrink sleeve labeling on lines running at up to 100 containers per minute (CPM). (Axon Expo Pack Guadalajara Booth # 211)



Thermodash can operate on as little as four kilowatts (kW) of electricity and three gallons of water per hour. Axon engineers calculate that energy bills can be reduced by more than 80 percent and water consumption lowered by more than 60 percent when compared to 30 kW/10 gallon per hour steam tunnels in the same production class.



Thermodash is sized for containers up to 4 inches (10.6 cm) wide and 10 inches (25.4 cm) tall. Customers can work with Axon on a custom Thermodash should their container size exceed these parameters.



Thermodash features stainless steel double wall construction for years of reliable and safe operation. A cantilevered cover provides for easy access to tunnel components. Thermodash is designed for quick changeover and is available in one and two zone configurations. A compact steam generating system rated at 15 PSI (1.05 kg/cm2) is integrated on the back of the unit.



For more information on the Thermodash energy and water saving steam tunnel, call 1-800-598-8601 and visit www.AxonCorp.com.



About Axon



Axon is a leading manufacturer of fully automated, heat-shrink labeling, tamper-evident banding, and stretch-sleeving equipment. With more than 30 years experience delivering products and solutions that are affordable, reliable, versatile, and easy to use, Axon sets the standard for technology development and customer value within the industries it serves. Visit Axon at www.AxonCorp.com.



About Pro Mach



Pro Mach is a leading provider of integrated packaging and processing products and solutions for food, beverage, consumer goods, pharmaceutical, and other diverse companies. Through its brands, Pro Mach provides product packaging and processing equipment, PMMI certified training, installation, parts, and service in Bottling Capping, Primary Packaging, Flexible Packaging, Material Handling, Identification Tracking, and End-of-Line Packaging.



Pro Mach has a diverse customer base, from Fortune 500 companies to smaller, privately-held businesses worldwide, which depend on reliable, flexible, technologically advanced equipment and integrated solution sets. Pro Mach is headquartered near Cincinnati, Ohio, with manufacturing facilities and offices throughout the United States, Canada, and Europe. For more information about Pro Mach, visit www.ProMachInc.com.