AW-Lake Offers Mass Flow Meters and Controllers for Marshmallow Flow Monitoring
Press Release Summary: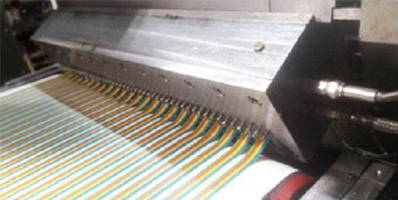 The Thermal Mass Flow Controllers are embedded with Vogtlin MEMS sensor technology that provides an accuracy of 0.5% and offer maximum flow rate value of  70 NLPM. The TRICOR Coriolis flow meters measure marshmallow viscosity at approximately 0.3 to 0.4% accuracy for each cycle. The meters feature 4-20mA output that is used for controlling the production line via programmable logic controller.
---
Original Press Release:
AW-Lake Mass Flow Meters and Controllers Optimize Marshmallow Candy Production Process
Oak Creek, Wisconsin-February 22, 2019- Monitoring air flow during marshmallow production is critical to quality control. Too much or too little air can change marshmallow texture, appearance and physical volume. Monitoring mass flow of marshmallow after leaving process tanks also is important to ensure consistent production. Coriolis Mass Flow Meters and Thermal Mass Flow Controllers from AW-Lake monitor both the air flow into the marshmallow mixture and marshmallow mass flow to ensure consistent quality to the final end product.
Replacing electronic meters, Vogtlin High-Precision Thermal Mass Flow Controllers provide greater precision and faster response in controlling the amount of air for marshmallow production cycles. While the application requires at least 1% accuracy, the Vogtlin MEMS sensor technology offers 0.5% accuracy with faster response time. While flow rate of the clean air depends on the capacity of the production, the maximum value is around 2.5-3.0 ft3/min (70 NLPM).
TRICOR Coriolis Mass Flow Meters from AW-Lake Company provide accurate measurement of marshmallow viscosity at approximately 0.3 to 0.4% accuracy for each cycle, depending on mounting position or straight pipe length. As a medium-sized marshmallow production line that produces 20 – 25 tons/day on a 24/7 schedule, flow meters must accurately measure the amount of mixture to ensure an accurate amount of the final product. With the accurate flow measurement from the TCM 028K Coriolis Mass Flow Meter, operators can check the amount of the final product at the end of a process before the packing process with a weight system. Without using this mass flow meter, the manufacturer previously used at least three weighing machines prior to packing.
As the pump and globe valve on the production line is controlled by a programmable logic controller using 4-20mA output from the Mass Flow Meters, operators can easily change flow rate depending on production and reference the amount in each production cycle to determine the total amount of clean air. In addition to providing greater response than previous instrumentation with greater production accuracy, the Coriolis Mass Flow Meters reduce production and maintenance costs.
Read the full application story at https://aw-lake.com/wp-content/uploads/2019/01/Application-Story-Marshmallow-Candy-Processing-Plant-Vogtlin-and-TRICOR.pdf. Information on TRICOR TCM 028K Coriolis Mass Flow Meters is available at https://tricorflow.com/tricor-coriolis-meter-tcm-028k/ and information on the Vogtlin Thermal Mass Flow Controllers at https://aw-lake.com/product-category/thermal-mass-flow-meters-vogtlin/.
AW-Lake offers a broad product offering to meet most flow measurement challenges. To discuss your application, contact AW-Lake Application Engineers, at 800-850-6110, e-mail sales@aw-lake.com.
About AW-Lake Company
AW-Lake Company, a TASI Group company, is a leading North American design, manufacturing and service company of flow measurement technology for the fluid control needs of various industries, including oil & gas, chemical processing, paints & coatings, hydraulics & pneumatics, food processing, and fluid power. Together with its European sister companies, KEM-Kueppers, Vogtlin Instruments, and LitreMeter, AW-Lake services and distributes a broad portfolio of flow measurement instrumentation throughout North America, South America, Europe, and Asia. For information, please contact Marcia Reiff, Marketing Manager, at 800-850-6110, e-mail mreiff@aw-lake.com, or visit AW-Lake's Web site at www.aw-lake.com.
About Vogtlin Instruments GmbH
Established in 1986, Vögtlin Instruments GmbH is a Swiss developer of precision flow instrumentation. Vögtlin became a member of the TASI group in 2011. The division TASI Flow delivers flow meter, flow control and dispensing solutions. TASI Flow products are developed, customized and serviced through technical centers in the US (Wisconsin), in Europe (Germany, Switzerland and the UK) and China (Beijing and Shanghai) » www.voegtlin.com
About the TASI Group
The TASI Group of Companies is comprised of three technologically advanced product platforms commonly linked by a disciplined focus on Test, Measurement, and Assembly. Each TASI company delivers products and services to today's world manufacturing environments, focusing on Automotive, Medical Devices, Oil and Gas, Plastic Containers, Consumer and General Industrial markets. For more information about the TASI Group, visit their Web site at www.tasigroup.com.
Contact:
Marcia Reiff
2440 W. Corporate Preserve Dr. #600
Oak Creek, WI 53154 USA
262-898-2511
Contact This Company Download Spec Sheet
More from Test & Measurement