AVX Receives Defense Logistics Agency Approval for Accu-L® Thin Film Inductors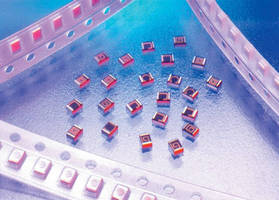 DLA issues drawings for hi-rel versions of AVX's Accu-L inductors, which are currently unique in their ability to provide 0.56nH inductance and ±0.05nH tolerances



GREENVILLE, S.C. – AVX Corporation, a leading manufacturer of advanced passive components and interconnect solutions, today announced that the Defense Logistics Agency (DLA) has issued drawings for high-reliability versions of its Accu-L® Series thin film inductors in 0402, 0603, and 0805 case sizes.  Currently unique in their ability to provide extremely low inductance values (0.56nH) and ultra-tight inductor tolerances (±0.05nH), Accu-L Series inductors also exhibit high Q, high SRF, and high current capabilities at VHF, UHF, and microwave frequencies, in addition to low parasitics.  Ideal applications for the series include: filters, global positioning systems, matching networks, mobile communications, radar systems, RF modules, and VCOs. 



"In addition to their ultra-low inductance values and ultra-tight tolerances, Accu-L inductors provide exceptionally repeatable, reliable, and predictable performance at frequency, which makes them ideal for use in military and defense applications," said AVX Senior Marketing Application Engineer, Larry Eisenberger.  



Intended to prevent the proliferation of contractor-developed drawings that describe generic microcircuits as though they were program-unique devices, DLA drawings are standardized government documents that present all of the applicable specs for existing high-reliability microcircuits designed for use in military applications.



To access the DLA drawings for high-reliability versions of AVX's 0402, 0603, and 0805 Accu-L thin film inductors, please visit http://www.landandmaritime.dla.mil/Programs/MilSpec/ListDwgs.aspx?DocTYPE=DSCCdwg, view all, and search for drawings #11017, 11018, and 11019.  For electrical specifications, please visit http://www.avx.com/docs/Catalogs/DSCCaccul.pdf.



For additional information and inquiries, please visit www.avx.com, call 864-967-2150, or write to One AVX Boulevard, Fountain Inn, S.C. 29644.



About AVX

AVX Corporation is a leading international supplier of electronic passive components and interconnect solutions with 26 manufacturing and customer support facilities in 15 countries around the world. AVX offers a broad range of devices including capacitors, resistors, filters, timing and circuit protection devices and connectors. The company is publicly traded on the New York Stock Exchange (NYSE:AVX).

More from Architectural & Civil Engineering Products