Aviation Flooring is suited for hangars and workshops.
Press Release Summary: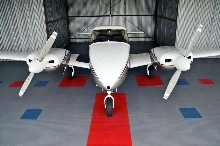 Tuff-Seal(TM) tiles utilize hidden interlock system to create secure, watertight, and seamless flooring that will not break, crack, deflect, loosen, or shift under heavy loads. Able to be removed and re-laid in other areas, product reduces noise, insulates subfloors, and reduces dust and humidity. PVC tiles, installed over existing or uneven floors, do not require adhesive or subfloor prep and are resistant to mildew, aviation fluids, abrasion, indentations, and fire.
---
Original Press Release:

Tuff-Seal Aviation Flooring Announced by Flooring Adventures


Richmond, VA, August 3, 2005-- Flooring Adventures today introduced its Tuff-Seal(TM) Aviation Flooring line.

Designed for use by aircraft owners and aircraft homebuilders in hangars, workshops, basements, garages and other areas, Tuff-Seal interlocking tiles utilize a patented, hidden interlock system to create a secure, watertight and virtually seamless flooring surface. The tiles reduce noise, insulate subfloors, reduce dust and humidity, and are more comfortable to stand and work on.

Tuff-Seal tiles will not break, crack, deflect, loosen or shift even under heavy loads, do not require frequent repair or replacement, yet can be easily removed and re-laid in other areas. Tuff-Seal has a lower life-cycle cost than such flooring alternatives as epoxy coatings and rigid plastic tiles.

Flexible Tuff-Seal is easily installed over existing or uneven floors, cracks and stains with an "overlap-and-tap" process that needs no adhesive or subfloor prep. Once in place, it is watertight and will not support mold and mildew.

Backed by a five-year warranty, Tuff-Seal resists aviation fluids, abrasion, indentations, fire and water. It meets ADA slip-resistance recommendations and ASTM specifications for F-1700 solid vinyl tile, is 100% recyclable, easy to maintain and helps meet LEED criteria. Since Tuff-Seal tiles are not adhered to the subfloor, their cost may be fully deductible in the first year.

Tuff-Seal tiles are 18" x 18" (450 mm x 450 mm), ¼" (6.5 mm) thick, weigh 3.5 pounds (1.55 kg) and available in four surface profiles (stud, marquis, diamond and smooth) and nine colors (blue, red, teal, taupe, black, light gray, dark gray, white and canvas). Tuff-Seal Prime is made of virgin PVC and Tuff-Seal Recycled is made of premium-grade 100% post-industrial recycled PVC.

For Tuff-Seal Aviation Flooring information and samples, contact Flooring Adventures, 7453 Whitepine Road, Richmond, VA 23237, 877-779-2454, tuffsealtile.com

More from Thermal & Heating Equipment