Aven Technik Tungsten Carbide Cutters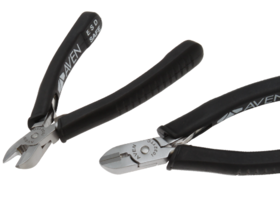 Cut through the toughest wires with ease. Designed to cut through hard wires such as guide wires, stents, catheters, and single/multiple fillers. The tungsten carbide blades have a hardness rating of 80-85 HRC for exceptional durability. ESD-safe, ergonomic hand grips provide protection against static build up. Ultra-responsive dual leaf springs provide easy opening and closing for reduced hand fatigue during repetitive use.
Available in flush or semi-flush styles.
For more information, call (734) 973-0099 or click on the link Aven Technik Tungsten Carbide Cutters: http://www.aventools.com/product-category/hand-tools/hard-wire-cutters/technik-tungsten-carbide-cutters/
Aven, Inc. manufactures and distributes high-performance optical instruments and precision tools for microscopy, inspection and assembly.
A technology innovator since 1983, Aven is located in a high-tech corridor of Southeast Michigan.
4330 Varsity Drive
Ann Arbor, MI 48108
CONTACT:
Mike Shahpurwala
734.973-0099
More from Sensors, Monitors & Transducers