Aven Static Eliminator Adds Compact ESD Protection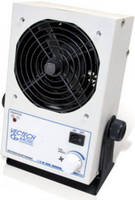 ANN ARBOR, MI -- A space-conserving air ionizer from Aven, Inc. helps avert electrostatic discharge (ESD) damage with minimal bench-top presence.

The Static Eliminator, which is just 5.5 inches wide, provides an optimum safeguard against unwanted currents that damage solid state electronics. The point-of-use blower for critical environments such as clean rooms has a variable-speed fan producing an air volume of 35 to 70 cubic feet per minute to neutralize static charge on insulation, plastics and circuit board substrates.

"Silicon components and silicon dioxide insulators can be harmed permanently by static buildup, so ionizing blowers are a cost-effective precaution," explains Mike Shahpurwala, president of Aven, a global supplier of precision technology.

The Michigan-based firm's small-footprint model, which protects a process area of up to five feet, is less than nine inches high and can be easily moved among bench work areas. It carries a one-year warranty.

For more information, call Aven at (734) 973-0099. A digital catalog is at www.aveninc.com.

Visit Aven at Booth 2977 of the Medical Design & Manufacturing (MD&M) show in Anaheim, Calif., from Feb. 8-10, 2011.

Aven, Inc. manufactures and distributes high-performance precision tools and optical systems for industrial, scientific, research and education applications. More than 750 products include video inspection systems, integrated portable microscopes, video borescopes, task lights, stainless steel tools for lab use and precision hand tools such as tweezers, pliers, cutters, screwdrivers, crimpers, knives and alignment tools. Brands include Mighty Scope, iLoupe, iVue, Accu-Cut and Athlet.

An electronics innovator since 1983, Aven is located in a high-tech corridor of Southeast Michigan and is the parent company of SharpVue, which designs and manufactures integrated digital microscope technology.

More from Controls & Controllers