Aven Slim Scope Combines Borescope Access and PC Display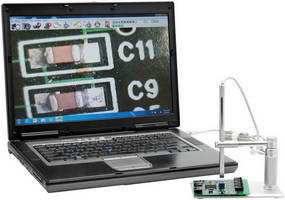 This borescope-style instrument slips inside engines, machines, pipes and other limited-access spots to capture magnified, high-resolution still and video images. With a soft-touch tip, it's also ideal for close scrutiny of human tissue, circuit boards and other delicate samples.



The Slim Scope's outer diameter of 8 mm (.31 inch) is similar to that of most borescopes.



Illumination comes from 6 white LEDs, which can be adjusted to varied levels. That brightness control and the snapshot button are on the USB cable, not the scope wand, to protect image clarity by avoiding vibration from user actions.     



"This practical addition to our line of inspection scopes brings borescope capabilities at a lower cost than handheld units with a LCD screen," says Aven president Mike Shahpurwala. "Instead of referring to a tiny screen on the borescope base, engineers, technicians or medical professionals see full-size images on a laptop or other monitor."



Magnification ranges from 5x to 270x when viewed on a 22-inch monitor.



A 6.5-foot USB cable allows positioning flexibility while the Windows-compatible Slim Scope is linked to a computer.



An adjustable aluminum stand with right-angle viewing attachment is included for precise positioning over embedded technology, surface-mounted electronics, bioscience specimens and other objects with detailed areas. In handheld mode, it can be used safely in sensitive areas because of the cushioned tip. 



The new instrument also comes with software that supports time-lapse imaging, measurements and other image adjustments. White balance and gain control are automatic. Video is recorded at up to 20 frames per second.



For more information, call Aven at (734) 973-0099. A digital catalog is at www.aventools.com/sales-info.html.     



Aven, Inc. manufactures and distributes high-performance optical instruments and precision tools for microscopy, inspection and assembly. More than 800 products include video inspection systems, integrated portable microscopes, video borescopes, task lights and stainless steel tools for lab use and precision hand tools such as tweezers, pliers, cutters, screwdrivers, crimpers, knives and alignment tools. Brands include Mighty Scope, iLoupe, Technik and Accu-Tek.



An electronics innovator since 1983, Aven is located in a high-tech corridor of Southeast Michigan.





More from Electronic Components & Devices