Autonomous RTU Datalogger acquires up to 48 measurement channels.
Press Release Summary: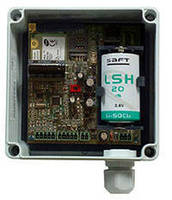 As wireless RTU (remote telemetry unit) with datalogging and alarming capabilities suited for weather and water monitoring applications, ADU-500 supports periodic data transmission via SDI-12 sensor connection according to user-defined parameters. Data can be sent via SMS to users or via FTP to internet server, and D-size Lithium Thionyl battery supports up to 10 years of operation. Features include 3 digital inputs, 2 analog inputs, one pulse counter input, and multiple excitation options.
---
Original Press Release:

Environmental RTU Datalogger is Ultra Low-Power Solution



New ADU-500 Autonomous RTU Datalogger from Infinite



CHESTERLAND, OH—Weather and water monitoring applications greatly benefit from the convenience of remote data retrieval. Now Infinite introduces the new ADU-500 Autonomous RTU Datalogger which supports periodic data transmission via SDI-12 sensor connection according to user-defined parameters. The unit can send data via SMS to predefined users or to an internet server via FTP. The device's Ultra-Low power design gives users up to 50% energy savings compared to competitors, offering up to 10 yrs operation on a D-size Lithium Thionyl battery. Call the data logger experts at CAS DataLoggers today at (800) 956-4437.



Wireless RTU for Weather & Water Applications:

The Infinite ADU-500 is an ultra-low power, wireless RTU (remote telemetry unit) with data logging and alarming capabilities. The battery-powered RTU incorporates three digital inputs, two analog inputs, one pulse counter input and multiple excitation options for powering measuring transducers.



The device supports acquisition of up to 48 measurement channels, based on the popular SDI-12 communication protocol. The ADU-500 uses an internal cell modem to automatically send data and alerts. The RTU is available for GSM/EGPRS and CDMA2000 network environments. A D-size Lithium Thionyl battery can provide autonomous operation for over 10 years.



Applications include:

• Remote Water Resource Management

• Remote Weather Condition Monitoring

• Environmental Monitoring



The Infinite Advantage:

The Infinite ADU-500 RTU utilizes a dual-processor architecture in order to combine extreme low-power consumption with advanced processing and communication capabilities. A system controller (ultra-low power MCU) performs measurement, data logging and alarm condition detection on a periodic basis.



A powerful communication processor, switched on/off by the system controller, performs data processing and controls communications through the internal wireless modem. As a result, users can realize up to 50% power savings compared to competing units on the market, all while performing the same tasks!



• Operating Temperature: -40 to 65°C

• GSM/GPRS and CDMA2000 versions

• Quick and easy installation

• 2 analog inputs, 3 digital inputs and one pulse counter input

• SDI-12 sensor data acquisition

• Several excitation options for external sensors

• Maintenance-free operation for over 10 years



Measurements & Data Logging:

The digital inputs are scanned by the RTU's system controller to detect an alarm condition. Analog input gain, scaling and alarm limits are all user-definable. Likewise the analog inputs and SDI-12 sensors are sampled according to the user-defined sampling rate. Note that sampling rate and sampling duration affect the battery life according to the transducer power supply requirements.



SDI-12 Serial Bus:

SDI-12 is an asynchronous, ASCII, serial communications protocol that was developed for intelligent sensory instruments that typically monitor environmental data. The communication is achieved by digital communications. The addressing system allows a data recorder to communicate with several microprocessor-based sensors over a single line.



The ADU-500 is compliant to the SDI-12 Standard Version 1.2 and supports extended commands for sensor configuration in terminal mode. The ADU-500 can collect data from several SDI-12 sensors for a total amount of 48 measurement channels.



RS-485, MODBUS:

Infinite's ADU-500 supports acquisition from sensors with a RS-485 interface using the popular MODBUS ASCII protocol. Up to 10 measurement channels from several sensors are supported.



Transducer Excitation:

The unit provides multiple excitation options for measuring transducers.



Alerting & Messaging:

SMS announcements include alert messages and periodic Status messages for verifying unit availability. The unit supports discrete alerting for several users. Message texts are user- definable.



Setup and Remote Configuration:

The unit can be programmed locally through the serial port or remotely via SMS by using simple ASCII configuration commands. The command set features commands for configuring input alarm parameters, scaling parameters and alarm limits, timing parameters, and defining user groups. Users have the choice to remotely reconfigure the ADU-500 by sending configuration commands to the unit during the periodical status message processing.



For further information on the Infinite ADU-500 RTU Data Logger, or to find the ideal solution for your application-specific needs, contact a CAS Data Logger Applications Specialist at (800) 956-4437 or visit our website at www.DataLoggerInc.com.



Contact Information:

CAS DataLoggers, Inc.

8437 Mayfield Rd.

Chesterland, Ohio 44026

(440) 729-2570

(800) 956-4437

sales@dataloggerinc.com

www.dataloggerinc.com

More from Architectural & Civil Engineering Products