Automotive Grade Flash Card is suitable for surveillance applications.
Press Release Summary: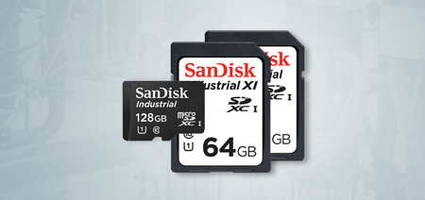 Automotive Grade Flash Card is available in industrial SD, microSD, automotive SD and industrial extended temperature variants. Unit delivers sequential read speeds of up to 80MB/s and write speed of up to 50MB/s. Product comes with automatic read refresh feature. Industrial SD, automotive SD, industrial extended temperature and microSD cards are offered in capacities up to 64GB and are operated in a temperature range of -40°C to 85°C.
---
Original Press Release:
Western Digital Introduced Industrial and Automotive Grade Flash Card (-40°C to 85°C)
Up to 64GB for SD and up to 128GB for microSD cards, up to 80MB/s and up to 50MB/s sequential RW speed
Western Digital Corp. (WDC) introduced industrial-grade and automotive-grade card solutions.
Enhanced SanDisk Industrial and Automotive card storage solutions provide endurance and reliability for commercial surveillance, intensive IIoT (Industrial Internet of Things) applications and 'connected automotive' applications under extreme ambient temperatures.
With up to quadruple the read speed and more than twice the write speed of the company's previous generation cards, they enable OEMs to push the boundaries of applications - from supporting 'smart' surveillance systems with fast in-camera analytics, to improving high-definition video capture in surveying commercial drones and automotive dash cameras, to enhancing the responsiveness of automotive 3D mapping navigation systems.
Industrial SD and microSD cards
The SanDisk Industrial SD and microSD cards, and Industrial Extended Temperature SD cards (for performance under extreme temperature conditions of -40°C to 85°C) are built with the endurance and reliability that is paramount in the industrial and commercial industries, enabling them to consistently manage the challenging workloads of IIoT, commercial surveillance, medical and other intensive 'connected' applications over extended periods of time.
Automotive SD card
The Automotive SD cards are built to meet the reliability, quality and temperature demands of the automotive market. Compliant with the automotive AEC-Q100 Grade 3 standard (operating in ambient temperatures of -40°C to 85°C), it enables OEMs to bring intelligent, high-capacity and fast storage to an array of in-vehicle applications and systems, including navigation mapping systems, data event recorders, infotainment systems.
Highlights and features:
Performance: Delivers sequential reads speeds of up to 80MB/s and sequential write speeds of up to 50MB/s.
Capacity: Automotive SD cards, Industrial SD cards and Industrial Extended Temperature SD cards are offered in capacities up to 64GB. The Industrial card is also available in a microSD form factor in a range of capacities, including a 128GB card.
Expanded intelligent features for OEMs: These cards include an enhanced 'Health Status Monitor' with expanded reporting capabilities to enable manufacturers to remotely monitor usage of the card and identify when card upgrades or replacements are needed. An automatic 'Read Refresh' feature optimizes the card for compliance with OEM data retention specifications. Other intelligent features include OEM customization capabilities, enhanced power protection and 'host lock' to help ensure security if the card is removed.
Availability:
The Industrial SD and microSD cards, and Automotive SD cards are sampling to OEMs worldwide.
The Industrial Extended Temperature SD cards will be available in October worldwide.
These SD and microSD cards are part of the company's suites of industrial-grade and automotive-grade solutions optimized to address the vast data generated at the 'edge' by connected commercial and automotive applications.
"The skyrocketing volume of data and the increased need for fast responsiveness for in-device analytics and other real-time event processing has made trusted storage at the 'edge' a critical part of IoT systems. Leveraging our vertical integration, we built our newest SanDisk-brand industrial and automotive cards from the ground-up for the intensive demands of IIoT and 'connected' automotive applications. These robust, high-endurance cards offer up to quadruple the performance of our previous generation cards and an outstanding feature set. In addition, we have expanded our portfolio to include a new 128GB SanDisk Industrial microSD card that provides the capacity that is imperative for capturing advanced video and supporting data-heavy connected applications over extended periods." said Christopher Bergey, VP, embedded and integrated solutions, Western Digital.
"The enhanced endurance of SanDisk Industrial microSD cards allow our customers to develop products that capture and store high definition video over long periods of time under a variety of challenging environmental conditions," aid Chan Lee, VP, engineering, Ambarella, Inc.
More from Agricultural & Farming Products