Automotive Assembly Manufacturer Tickled Pink with Rosie, the Custom Riveter to Support Breast Cancer Awareness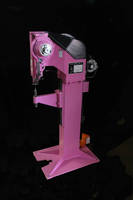 You'd think that Rosie might have enjoyed a pink riveter back in the day, but it wasn't until a Wisconsin manufacturer of automotive assemblies wanted to show support for breast cancer awareness that National Rivet & Mfg. Co. received such a request.

The customer ordered a Model 600 electro-mechanical rivet setter, which is an excellent machine for manufacturers that expect efficiency in a medium-duty model that sets steel, semi-tubular rivets up to 3/16" diameter. Putting aside its usual "battleship grey" paint, National Rivet purchased several gallons of pink paint to complete the customer's request (naturally, it was a rush job as well) and sent "Rosie" out the door.

National Rivet has always welcomed orders for customized machines. Typically, the customer has a challenging part - an intricate shape, delicate material or complex assembly method - and wants to ensure that obtaining good quality doesn't sacrifice productivity or vice versa.

"We've custom built thousands of machines since our founding in 1928, but none of them were pink," says Bur Zeratsky, Executive Vice President of National Rivet. "Building this riveter became a very important project for everyone involved, as many of them know people who have been impacted by breast cancer."


More from Sensors, Monitors & Transducers