Automation Controller survives extreme environmental conditions.
Press Release Summary: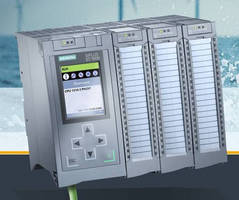 Intended for mid-level and high-end machine and plant automation, Siplus S7-1500 delivers reliable operation under extreme medial loads (humidity, corrosive vapors, salts, dusts). Additional air conditioning is not necessary, and unit functions reliably during cold starts as well as in continual operation. Protected against condensation and corrosive gasses as well as aggressive and saline atmospheres, controller features integrated functions for motion control, security, and safety.
---
Original Press Release:

Automation Controller for Extreme Conditions



• New controllers for extreme environmental conditions in mid-level and highend automation

• Protection from condensation, aggressive environments, and corrosive gasses

• Safe cold start and continuous operation in an extended temperature range

• Additional air conditioning not necessary



The Siemens Industry Automation division has developed a new controller for extreme environmental conditions. Siplus S7-1500 has the same performance characteristics as the newest standard controller family Simatic S7-1500 for mid-level and high-end machine and plant automation. Other outstanding features of the new controller Siplus S7-1500 are reliable operation under extreme medial loads such as humidity, corrosive vapors, salts or dusts.In an extended temperature range, the Siplus S7-1500 functions reliably during cold starts as well as in continual operation. This saves energy costs for the user because no additional air conditioning is necessary.



Robust, enhanced modules make it possible to safely use the system everywhere from offshore plants and harsh industrial environments up to applications at extreme altitudes. The new device is protected against condensation and corrosive gasses, as well as aggressive and saline atmospheres. The Siplus S7-1500 controller has the same performance and efficiency characteristics as the Simatic S7-1500, the new standard controller generation from Siemens. Its characteristic features include outstanding system performance and a host of functions integrated as standard, including Motion Control, Security for maximum possible plant security, and Safety for safety applications that are easy to implement. Greater efficiency is represented in particular by the innovative design for simple commissioning and safe operation, the configurable diagnostic functions for the plant status and the integration into the TIA Portal for simple engineering and low project costs.



The Siemens Industry Automation division has developed a new controller for ex-treme environmental conditions. Siplus S7-1500 has the same performance charac-teristics as the newest standard controller family Simatic S7-1500 for mid-level and high-end machine and plant automation.



Contact person for journalists:

Siemens AG, Media Relations

Gerhard Stauß, Tel.:+49 911 895 7945

E-Mail: gerhard.stauss@siemens.com



More information is available on the Internet at: unter siemens.com/siplus



Follow us on Twitter: www.twitter.com/siemens_press



The Siemens Industry Sector (Erlangen, Germany) is the world's leading supplier of innovative and environmen-tally friendly products and solutions for industrial customers. With end-to-end automation technology and industrial software, solid vertical-market expertise, and technology-based services, the Sector enhances its customers' productivity, efficiency, and flexibility. With a global workforce of more than 100,000 employees, the Industry Sector comprises the Divisions Industry Automation, Drive Technologies and Customer Services as well as the Business Unit Metals Technologies. For more information, visit www.siemens.com/industry



The Siemens Industry Automation Division (Nuremberg, Germany) supports the entire value chain of its industri-al customers – from product design to production and services – with an unmatched combination of automation technology, industrial control technology, and industrial software. With its software solutions, the Division can short-en the time-to-market of new products by up to 50 percent. Industry Automation comprises five Business Units: Industrial Automation Systems, Control Components and Systems Engineering, Sensors and Communications, Siemens PLM Software, and Water Technologies. For more information, visit www.siemens.com/industryautomation

More from Material Handling & Storage