Automation Cell helps provide safe working environment.
Press Release Summary: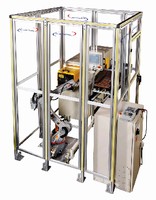 In addition to completing repetitive operations, ProdiMate(TM) can eliminate need for manual involvement in production environments where ensuring operator safety can be difficult. Cell enables processes to be linked together, then permits manufacturing functions to be combined with automated inspection process. It can be designed to first bend tube, then form ends, punch holes or notches, and gauge manipulated component to ensure it meets specifications.
---
Original Press Release:

AddisonMckee ProdiMate Work Cell Provides A Safer Working Environment



- and removes manual involvement in often repetitive operations

Global tube manipulation technology providers, AddisonMckee, have developed ProdiMate(TM) - an automated production efficiency cell that will not only complete those often-laborious repetitive operations that demand the highest levels of consistency and accuracy, but can also eliminate the need for manual involvement in production environments where ensuring operator safety can prove difficult.

Commented AddisonMckee Director of Global Marketing, Christian Rogiers, "We have long been aware that certain repetitive functions within the tube manipulation environment are often better suited to automation than manual labour. By offering the ProdiMate(TM) production cell, we are enabling manufacturers to free up their operatives for more profitable use, while ensuring mundane processes are carried out consistently, time and time again. Investing in our ProdiMate(TM) technology also allows a more efficient work schedule by eliminating breaks, lunchtimes, days lost through sickness and vacations.

Maximum uptime, minimal supervision
"Designed for integrating tube forming technologies, such as tube bending, endforming, press die and basic handling operations," he continued, "the ProdiMate(TM) cell maximizes machine uptime and minimizes supervision. Most importantly, it can negate operator involvement in processes such as tube cutting or ram forming where safety can be an issue. With its competitive pricing, we anticipate this latest AddisonMckee technology will prove an attractive option to those production environments where repetitive actions form a considerable part of the tube manipulation process."

Simple, straightforward operation
Easy to set up and operate, AddisonMckee envisage that its ProdiMate(TM) automation cell will quickly become established as the ultimate operator replacement for repetitive and high accuracy operations.

Enabling processes to be linked together, ProdiMate's innovative technologies then permit manufacturing functions to be combined with an automated inspection process. For example, the ProdiMate(TM) can be designed to first bend the tube, then form its ends, punch holes or notches, then gauge the manipulated component to ensure it meets the required specifications.

Added Christian Rogiers, "At AddisonMckee, we have always placed process efficiency and safety as paramount objectives when developing our world-leading technologies. We are, therefore, delighted that the ProdiMate(TM) cell not only provides tube manipulators with the opportunity for greater efficiency, but also further endorses our commitment to promoting a safe working environment, by removing manual involvement from processes where assuring operator safety can sometimes prove difficult."

About AddisonMckee
Globally renowned for the design, manufacture and supply of some of the world's finest tube bending and end forming technologies - for increasingly complex automotive, aviation, truck and shipbuilding requirements - AddisonMckee also offers highly innovative tube measuring solutions, tube perforation, piercing and louvring technologies, hydraulic press machinery, muffler assembly solutions, plant automation and complete workcell integration.

In addition to these capabilities, a whole range of tooling and accessory options are also provided, as are comprehensive maintenance and service contracts, training and education programs and financial services. Where applicable, AddisonMckee is also able to offer customers the opportunity of machine rebuilds, refurbishment, upgrades and trade-ins.

From its state-of-the-art manufacturing centres in the USA, United Kingdom, Canada and China, AddisonMckee is committed to providing rapid solutions to market and also regularly assists clients in product prototyping, parts development, small production runs and pre-production sample development.

AddisonMckee is principally owned by WHI Capital Partners (WHICP), a Chicago-based private equity group that invests in middle market, industry-leading companies with solid financial fundamentals and proven management teams. WHICP is an affiliate of William Harris Investors, Inc., a family-based asset management firm founded by Irving B. Harris in 1987.

For further information please contact:

Christian Rogiers - AddisonMckee
E-mail: crogiers@addisonmckee.com
Tel: +1 513 228 7076
Fax: +1 513 228 7226

More from Machinery & Machining Tools