Automatic Saw offers accurate crayon marking.
Press Release Summary: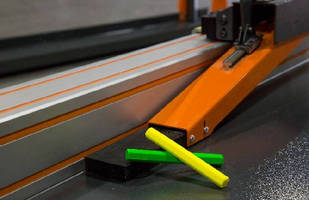 With independent edge detection, TigerSaw1000 Crayon Marking Automatic Push Feed System features back scan speeds in excess of 325 fpm and push cut speeds in excess of 225 fpm. System handles optimization for cutting raw material for panel glue up. TigerSaw1000 is available with DOD inkjet direct applications labeler or CIJ Video Jet Labeler for higher production. In addition to panel stock and linear stock defect optimization, system comes standard with optimization for strip cutting.
---
Original Press Release:

TigerSaw1000 Crayon Marking Push Feed System



TigerStop to debut new machine to optimizing lineup at AWFS – Booth 8920.



Vancouver, WA  – Optimization has become more and more relevant in today's market. It just makes sense; not only economically, but environmentally. With competition mounting and demand resurfacing, businesses now stand to make a decision: Adopt the new industry standard or be left in the dust.



TigerStop has known the importance of this for years, developing optimization machinery and software that exceed industry expectations. The announcement of a new optimization system at a price point that will baffle most, we are hard-pressed to find something to compete.



Introducing the TigerSaw1000, the newest machine in the optimization lineup. It uses the time tested TigerSaw. With its heavy duty build and rugged construction, it is here to stay. This built in the US beauty features numerous thoughtful design innovations. From the ease of changing belts to its unique ability to easily square the saw to the tables, you won't find a better built saw anywhere. Now couple that with a powerful TigerStop and you have just the right system. Accurate, reliable and fast are all the hallmarks that over 30,000 users have come to rely on to get the job done. For more information on TigerSaw1000 Crayon Marking Automatic Push Feed Systems, click here.



Here's a feature breakdown:




Uses no more room than you already have dedicated to cross cutting



Download cutting bills directly from the office



Simple and intuitive interface



Multi grade optimization



Crayon marking



Independent edge detection



Back scan speeds in excess of 325 ft. per minute



Push cut speeds in excess of 225 ft. per minute



Handles Optimization for cutting raw material for panel glue up



Can print labels with your data, configured the way you want it. 2" an 4" paper label printers available



DOD Inkjet direct application labeler, does not require hand application of labels



CIJ Video Jet Labeler for higher production does not require hand application of labels.



Comes Standard with the powerful and flexible Dynamic Optimization



Easy link to your server using TigerLink6



Upgradable to Touch Screen interface



Comes standard with Panel stock and linear stock defect optimization



Comes standard with Optimization for strip cutting



Can be upgraded to use our return conveyor, the perfect lean work cell for doors and face frame work



TigerSaw1000 delivers a fully automated and integrated system that works for any level of manufacturing, without the price tag. It now makes sense to put the cutting operation where you need it. Each work cell can afford an automated system to provide dead on cuts with a minimum of labor and materials. For more information, visit www.tigerstop.com  or call 360.254.0661



TigerStop LLC 360.254.0661 www.tigerstop.com

More from Packaging Products & Equipment