Plasma / Flame / Laser Cutters and Cutting Machinery
Automatic Height Control System utilizes arc-sensing for improved quality cuts.
Press Release Summary: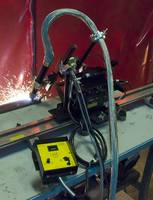 Automatic Height Control System automatically controls the height of the welding torch from the workpiece. Unit ensures proper arc length. Featuring interchangeable design, unit can be used on modular drive system (MDS to MM1 and MM5 pipe cutting systems).
---
Original Press Release:
Plasma Cutting Auto Height Control
Bug-O Systems announces its new Auto Height Control (AHC) for any plasma cutting system.
Automatic Height Control (AHC) for welding has been a very popular feature available on several Bug-O Systems, from the Modular Drive System (MDS), to the top of the line Piper Plus pipe welding system. This AHC system utilizes arc-sensing, to automatically control the height of the welding torch from the work piece, to maintain proper arc length, thus providing proper and consistent weld quality. You no longer have to worry about out-of-round pipe, or warped and/or distorted steel plates with Bug-O Systems Auto Height Control.
Bug-O Systems has now extended the functionality of its welding Automatic Height Control (AHC) to include plasma cutting and plasma gouging through automatic voltage control. The new plasma AHC ensures proper torch distance (arc length) so as to ensure a constant arc, for more smooth and overall better quantity cuts. By improving cut quality, this makes for "weld ready" results, thus reducing overall costs.
As we are all very much aware, rarely is a work-piece consistent in shape and/or design. Plates are often warped or distorted for various reasons. Other challenging examples are pipes, tubes and tanks that are often out-of-round or have some sort of deformation for one reason or another. All of these applications could cause huge delays and challenges in cutting and gouging if not for Automatic Height Control (AHC).
There are several competitive units on the market; however, the AHC system from Bug-O was designed from the ground up to be more compact and modular, for greater flexibility. Our design is easier to setup and use, while it's interchangeable design allows it to be installed and used on all Bug-O cutting systems including the MDS (Modular Drive System). Adding Auto Height Control to your plasma cutting system enables you to perform better cuts with a great cut success rate. This system is also available on all the systems within Bug-O's product line, from the MDS to MM1 and MM5 pipe cutting systems.
It only makes sense to purchase your AHC from Bug-O because it will arrive as an integrated part of your complete system, making it "turn-key," "Made in America" and backed by Bug-O's exclusive 3-year parts and labor warranty. Why look anywhere else?
For more details, visit bugo.com or call 1-800-245-3186 or 1-412-331-1776 and connect with our Team of Professionals.
More from Packaging Products & Equipment