Automatic Gun delivers advanced electrostatics.
Press Release Summary: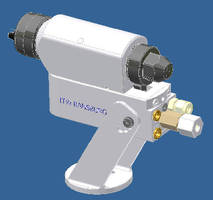 Weighing 3.35 lb, Evolver SE is suited for fixed gun, reciprocator, or robotic applications. Gun features advanced air caps that achieve fine particle atomization, delivering uniform spray patterns, consistent paint build-up, and quality finishes. Major components are made of high-strength, engineered resins for minimized maintenance and downtime.
---
Original Press Release:

Evolver SE Delivers Advanced Automated Electrostatics with Compact, Durable Design



ITW Ransburg's newest automatic gun, the Evolver SE delivers advanced electrostatics in an efficient and versatile applicator. Built on the proven Evolver platform, the Evolver SE assures users of quality, reliability and consistency with every application. Ransburg Marketing Manager Judith Lietzke says, "With technology constantly evolving, ITW Ransburg provides new and innovative products to meet our customer's changing needs. The Evolver SE offers all the great features of the Evolver with value added benefits for optimum productivity."

Ideally suited for fixed gun, reciprocator or robotic applications, the Evolver SE offers superior transfer efficiency in a compact, durable model. The advanced air caps deliver uniform spray patterns, consistent paint build-up and quality finishes. This 100% tested Ransburg air cap technology achieves fine particle atomization, providing a Class A Finish.

Designed for use in the toughest production environments, the Evolver SE delivers a high quality finish with maximum uptime. Major product components are made of high strength, engineered resins for less maintenance and unwanted downtime. Durable construction and fewer moving parts reduce wear and provide long product life.

The user-friendly Evolver SE allows for flexibility and versatility to meet a variety of finishing needs. Weighing only 3.35 pounds, the compact and lightweight model makes it the gun of choice for small paint robots.

ITW Ransburg significantly reduced the Evolver SE's environmental impact in today's green environment. The gun delivers superior transfer efficiency that is 30% higher than non-electrostatic spray guns, minimizing paint consumption and overspray. Helping users achieve environmental stewardship without sacrificing finish quality.

According to Lietzke, "ITW Ransburg remains focused on continually offering an innovative product line with the newest technologies and advancements. We are committed to provide our customers with first class finishing solutions." She concluded, "The Evolver SE is one of our many product advancements designed to increase productivity and reduce costs for our customers."

Harold Ransburg first experimented with paint charging and surface grounding technologies in the 1930s, and patented the revolutionary electrostatic finishing process in 1941. Today, ITW Ransburg remains an industry innovator and serves the global liquid electrostatic spray-finishing marketplace from their headquarters in Toledo, Ohio.

If additional information on the ITW Ransburg Evolver SE Automatic Gun is required, please contact the ITW Marketing Department via email to marketing@itwransburg.com or check out our website www.itwransburg.com.

Related