Automatic Circular Saw Added to Kasto's Workshop Range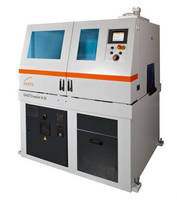 Intended for use by fabricators, machine shops and small to medium size suppliers of raw materials, German sawing machine manufacturer, KASTO, has added a new, compact circular saw to its workshop range. Availability in the UK is through the company's subsidiary in Milton Keynes.



Called KASTOradial A 10, the hydraulically actuated saw is designed for cutting to length of solids, tubes and profiles at 90 degrees, either in single-cut or automatic operation. Cutting range is up to 100 mm for round bar, 120 mm round tubes, 80 x 80 mm square bar and 150 x 100 mm flats, ensuring a wide spectrum uses. Shortest cut piece length is 6 mm, while remnant length is 20 mm in single cut mode, 75 mm in automatic operation.



The blade is driven by a robust, 3 kW motor and has a horizontal vice that secures the workpiece safely and results in burr-free cuts, often eliminating the need for an additional finishing operation. Minimum quantity lubrication is an option for use when cutting profiles.



The standard machine has automatic NC material feed, a KASTO BasicControl control with remote adjustment of rpm using function keys, automatic cutting height recognition during rapid downfeed, a coolant system and removable chip trough. The base of the machine is a sturdy fabrication which supports a table at an ergonomic height of 950 mm. Saw blade dimensions are 350 mm diameter by 2.5 mm thick.



Occupying just 1,530 mm by 1,200 mm of workshop space, the compact KASTOradial A 10 can be installed in a small area of a workshop. In common with all KASTO saws, emphasis has been placed on ease of material handling. An extensive accessory programme is available to optimise material flow, for example using driven roller conveyors or an inclined magazine to load bars up to three metres in length automatically.



Additional models in the KASTOradial range include machines for manual and semi-automatic operation as well as others capable of +60 to -45 degree mitre cutting.



KASTO Ltd, Unit 5, Garamonde Drive,

Wymbush, Milton Keynes, MK8 8DF.

Tel: 01908 571590

Fax: 01908 566106

E-mail: sales@kasto.uk.com

Web site: www.kasto.uk.com

Contact: Ernst Wagner, Managing Director.



THE RIGHT IMAGE Ltd,

PO Box 42, Twickenham, TW1 1BQ.

Tel: 020 8891 0603.

E-mail: chris@therightimage.net

Web site: www.therightimage.net

Contact: Chris Wright.

More from Machinery & Machining Tools