Automatic Boat Covers provide protection and security.
Press Release Summary: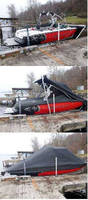 Available in 2 designs, SwiftShield™ Covers can cover and uncover boats in seconds. Fully automatic A-Series, powered with hydraulics and operated with remote control, actuates arm with spring-loaded roller and 3-dimensional cover, protecting full boat, including sides and stern. Semi-automatic S-Series uses roller mounted in front of boat that is powered by electric motor via remote control or manual handle. When deployed, cover is unrolled, draped over boat, and tightened with perimeter cord.
---
Original Press Release:
Sunstream® Introduces Swiftshield(TM) Automatic Boat Cover
Boat Lift Leader Offers New Hassle-free Automated Cover Systems

Kent, Wash. – Sunstream® Boat Lifts, the leading manufacturer of high-quality portable and installed boat lifts and hoists, announced today the launch of the SwiftShieldTM line of automated boat covers. Employing two revolutionary designs that cover and uncover a boat in seconds, Sunstream SwiftShield covers are not only effortless, but provide unparalleled protection from the elements and added security.

The A-Series is a fully automatic cover system powered with hydraulics and operated with a remote control. This patented design actuates an arm with a spring-loaded roller and three-dimensional cover over the boat, which gives protection to the full boat, including the sides and stern.

The semi-automatic S-Series rolls the cover on a roller that is mounted in front of the boat. The roller is powered by an electric motor via remote control or by a manual handle. The SwiftShield S-Series mounts to almost any boat lift, regardless of the make or model, or to a dock. The cover is stored on the roller when the boat is being used, saving room on board or on the dock and eliminating the need to handle a dirty cover. When deployed, the cover is unrolled from the roller and is draped over the boat. The forward roller then tightens the cover around the boat with a perimeter cord — eliminating the need for snaps and typically without cover poles.

"Boat lifts have become an essential accessory for boat owners today, keeping the boat bottom clean and the boat secure." said Ken Hey, CEO Sunstream Boat Lifts. "The SwiftShield gets you boating more often with less hassle and keeps the rest of the boat protected. It is a great advancement not to have to struggle with covers and snaps at the start and end of your boating day, and it gives you the benefit of keeping your boat looking new longer while washing it less."

The Sunstream SwiftShield S- and A-Series boat covers are available for purchase from authorized Sunstream SwiftShield dealers worldwide For more information on the innovative SwiftShield, Sunstream, dealership opportunities or its complete line of high quality boatlifts and accessories, please call 1-253-395-0500, email: sales@sunstreamcorp.com or visit www.sunstreamcorp.com

About Sunstream Corp:
Sunstream Corporation, based in Seattle Washington, is the leading portable hydraulic boat lift and hoist manufacturer in the world. Founded in 1996, Sunstream has been recognized multiple times for their innovation and fast growth .   www.sunstreamcorp.com