Automated System polishes 900,000 softgel capsules/hr.
Press Release Summary: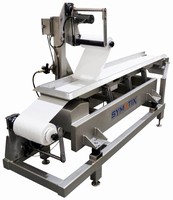 PulseScrubber(TM) features fully unattended and gentle operation, continuously receiving, handling, and discharging softgel capsules. Used at nutraceutical and pharmaceutical manufacturing facilities, system has 91 x 13 in. footprint and uses FDA-accepted, low-lint absorption media manufactured from cellulosic fibers that are hydraulically entangled. Unit is based on Key Technology's Impulse(TM) electromagnetic vibratory conveyor and has oil-free, solid-state electromagnetic drive.
---
Original Press Release:

Symetix Introduces PulseScrubber(TM) for Continuous Polishing of Softgels



August 8, 2007 - Symetix introduces PulseScrubber(TM), the industry's first continuous polishing system for softgel capsules. Replacing traditional batch polishing systems in use at nutraceutical and pharmaceutical manufacturing facilities, PulseScrubber extends Symetix's concept of a Continuous Softgel Finishing Line(TM) to maximize product quality and reduce labor while handling up to 900,000 capsules per hour.

Unlike batch polishing systems that require manual loading and unloading, PulseScrubber operates unattended - receiving, handling and discharging product continuously. Softgel capsules move down the length of the polishing system where absorption media above and below the product is energized by vibratory motion to gently polish the surfaces of the capsules. PulseScrubber uses custom-made, FDA-accepted, low-lint absorption media manufactured from cellulosic fibers that are hydraulically entangled. Polishing the softgels removes oil from the capsule's surface and creates a polished appearance.

As softgel manufacturers race to automate their production lines, continuous processes are replacing conventional batch processes to dry, polish, size, inspect and package capsules. Symetix is enabling this paradigm shift with PulseScrubber. If needed, manufacturers can batch-feed the bulk-to-bulk PulseScrubber today and later integrate it with other Symetix Continuous Softgel Finishing Line components to achieve fully-automated, high-throughput softgel finishing line operation.

Compared to existing batch polishing systems, PulseScrubber is easy to clear and clean - product changeovers can be achieved in less than five minutes. Simply snip the absorption media at the feed roll and discard, wipe down the vibratory bed, re-thread the absorption media and the polisher is ready for the next product run. The surfaces to be cleared and cleaned are all easy to reach and easy to observe, making the tasks more efficient to perform.

Based on Key Technology's field-proven Impulse(TM) electromagnetic vibratory conveyor, which Symetix has redesigned specifically for polishing softgels, PulseScrubber features an oil-free, solid-state electromagnetic drive, which is quiet and has no moving parts. In addition to gentle product handling, PulseScrubber offers exceptional service life and very low maintenance.

The compact PulseScrubber polisher handles 900,000 capsules per hour in a space only 13 inches wide and 91 inches long (330 mm wide and 2.3 meters long).

Designed to meet FDA requirements and comply with GAMP 4 guidelines, PulseScrubber benefits from the company's 10-year history of supplying FDA-validated inspection systems to the pharmaceutical industry. Symetix offers complete engineering services and validation packages.

About Symetix
Symetix is the pharmaceutical business unit of Key Technology. With 60 years of experience in the food, tobacco, and pharmaceutical industries, Key is a leading manufacturer of best-in-class process automation systems. Symetix offers worldwide sales representation and maintains demonstration and testing facilities at Key's headquarters and manufacturing divisions in Walla Walla, Washington, USA, and at Key Technology BV in Beusichem, the Netherlands. Key's common stock trades on the Global Market tier of The NASDAQ Stock MarketSM under the symbol: KTEC.

Reader Inquiries:
Brenda Murphy
Symetix
150 Avery Street
Walla Walla, WA 99362 USA
Tel: 800.941.3701 or 509.522.3524
Fax: 509.522.3361
Email: bmurphy@symetix.com
URL: www.symetix.com

More from Communication Systems & Equipment