Automated SMT Stencil Printer has inline, multifunctional design.
Press Release Summary: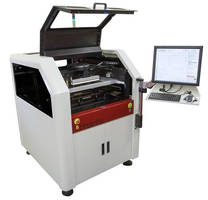 Capable of using 29 in. stencils, Mantis handles board sizes up to 650 x 580 mm and offers automatic stencil loading, automatic conveyor width adjustment, and assisted manual support pin placement. Tooling options, such as VacuNest and Grid-Lok, are supported and can be fitted directly without requiring external control boxes. Other features include printer cycle time os <11 sec, integrated vision system with programmable RGB illumination, and integrated cleaning system.
---
Original Press Release:

Compact Inline, Multifunctional SMT Stencil Printer



The MANTIS SMT stencil printer is now available on the Windows 7 platform.



Built in a very compact format yet capably of using 29 inch stencils and handling board sizes up to 650 x 580mm, the Mantis offers best in class results with respect to footprint as well as functionality. With auto-setup features including automatic stencil loading, automatic conveyor width adjustment, assisted manual support  pin placement, fast new product set-up and combined with its ease of use makes this printer the ideal machine for production environments requiring frequent product changeovers during the day.



The newly developed support pin placement feature allows for the automatic storing of support pin locations with the board files. Operators who then load an existing program get the correct positions indicated by a laser pointer. This eliminates placing support pins in the wrong location and new production runs can be started immediately. Additionally, many types of tooling options such as VacuNest and Grid-Lok are supported by the machine and can be fitted directly without requiring expensive external control boxes.



With the SMEMA inline conveyor system providing fast board transfers and including heavy board handling capability as standard, the printer cycle time of less than 11 seconds makes the Mantis the ideal choice for the majority of production requirements.



The integrated vision system with programmable RGB illumination allows alignment of even the most challenging board surfaces. At the same time the vision system can be programmed for full automatic inspection of printed pads as well as inspecting stencil apertures for blockage. On detecting blocked apertures, the system can be configured to trigger an automatic stencil clean cycle. The fully integrated cleaning system provides superior cleaning results with programmable dry and wet modes and includes vacuum assistance if required.



A double squeegee gantry with fully programmable, independently controlled motorized squeegees give the exact print force guaranteeing perfect printing results. Changeover of squeegees is quick and easy. A dedicated area within the printer provides storage space for all squeegees lengths and gives protection against damage when not in use.



The printer's simple to use and versatile stencil positioning and automatic pneumatic clamping system means the Mantis can be used with a wide variety of stencils and stencil frame systems available from Reprint and other suppliers. An optional adjustable frame adapter allows the use of customer's existing frames.



About Reprint Ltd.

• Launched in 1999, the company's founders, having already gained many years' experience and expertise in the printing industry, have laid the ground to a successful company specialising in printers for the SMT (Surface Mount Industry) and related sectors.

• All development and manufacturing is conducted in-house

• Proven, standardizes products for inline, batch or stand-alone machines

• Well established network of distributors and business partners for local support

• With many hundreds of installations worldwide, from small to large international customers, Reprint has proven itself as a reliable, trustworthy and significant partner in the printing industry



Today's products cover the following market segments and machines:

• SMEMA compatible inline machines for OEM's and Contract Manufacturers for mid to high volume productions

• Batch printers for flexible production environments and special printing applications

• Table top printers for low volume productions, prototypes and NPI (new product introductions)

• Specialized printers for long board LED applications

• Customized printers for special applications (Hybrid, PV, Organic LED and other industries)

More from Mechanical Components and Assemblies