Automated Slurry Blast System provides 2-axis gun motion.
Press Release Summary: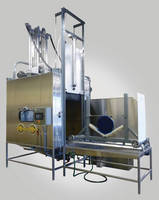 Designed for wet-blast cleaning, descaling, and pre-polish treatment of dies or molds, custom-engineered, 72 x 72 in. Vaqua slurry blasting system has 1,500 lb capacity powered transfer cart, touchscreen HMI/display, and gun manipulator. Latter moves blast nozzles vertically and horizontally in repeatable programmed routine. Dual banks of 4 guns bracketed in position at correct angles and offsets on X-axis arms of gun move so that both faces of workpiece can be blasted simultaneously.
---
Original Press Release:

Automated Slurry-Blast System Has 2-Axis Gun Motion



Guyson Corporation has introduced a 72 x 72-inch wet blasting machine with a 1,500-pound capacity powered transfer cart and a gun manipulator that moves the blast nozzles vertically and horizontally in a repeatable programmed routine.



Designed for wet-blast cleaning, descaling and pre-polish treatment of dies or molds, this custom-engineered Vaqua slurry blasting system has two banks of four guns bracketed in position at the correct angles and offsets on the X-axis arms of the gun mover, so both faces of the work piece can be blasted simultaneously. Controlled and adjustable traversing of the blast guns in two axes enables thorough, consistent coverage of components up to 30 inches in diameter, and if desired, blast treatment can be concentrated on specific target surfaces.



All rotating parts of the precision ball screw/ball nut actuators of the two-axis gun mover are located on the roof of the wet-blast machine, outside the wet and abrasive environment of the blast chamber.



In this machine model, a single component is loaded and secured on a sturdy, custom-designed rack built on a transfer cart that rolls on a V-rail track extension at the side of the vapor-blasting system. The powered roll-out cart allows unrestricted access for loading by an overhead crane or hoist.



The blast enclosure, cabinet hopper and all structures exposed to the slurry are robustly fabricated in polished 304 stainless steel. The interior walls of the process chamber are lined with rubber curtains for abrasion resistance and noise abatement. A full depth swing-out side door fitted with a view window and safety interlocks permits access to the inside of the blast cabinet for inspection, adjustment and maintenance.



A compact touch-screen interface mounted on the front of the machine conveniently presents all controls needed for automatic operation of the wet blasting machine and graphically displays real-time data on system functions, such as air pressure, slurry pump speed and cycle time. The human-machine interface (HMI) allows selection of a pre-programmed recipe for processing a particular component or entry of process parameters such as the stroke length and travel speed for the traversing motion of the blast nozzles. Also at the front, an optional manual touch-up station and hand-held gun are available, with safety interlocked armholes and a view window with a wiper.



The track extension is constructed with a catch tray under the transfer cart and attached to the blast cabinet. Slurry or rinse water is collected in the pitched tray and drained to a recirculating rinse tank.



The baffled stainless steel recirculating rinse tank, which receives fluid from the overflow port of the slurry hopper and from the catch tray under the track extension, promotes settling of any media particles or fines carried over by the rinse water. It is fitted with a skimmer to remove floating oil or grease from the closed-loop rinsing system, as well as a stainless steel pump to deliver rinse water to the hand held or automatic spray nozzles. Filtration of the rinse water is optionally available.



Prospective users of industrial manual, automated or robotic wet blasting equipment are invited to submit sample components for free laboratory testing and application engineering evaluation at the blast machinery manufacturer's factory in northeastern New York State.

More from Architectural & Civil Engineering Products