Automated Sleeve Applicator conserves time and effort.
Press Release Summary: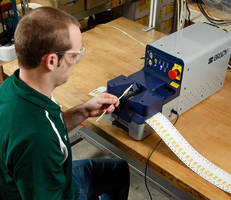 Constructed for high-volume, long-term use, BSP™45 improves sleeve application by automatically removing sleeves from liner, opening sleeves for wire insertion, and applying sleeves to wires. Automation eliminates repetitive task of manual application that can lead to bottlenecks and repetitive motion injuries. Eliminating hand-application improves processes for intensive wire sleeve users, such as harness shops and panel builders, in multiple industries.
---
Original Press Release:

Brady Debuts the BSP(TM)45 Automated Sleeve Applicator



New automated sleeve applicator is designed for faster, easier wire sleeve identification



MILWAUKEE, Wis. – Brady (NYSE:BRC), a global leader in industrial and safety printing systems and solutions, today announced its BSP™45 Automated Sleeve Applicator. It improves the sleeve application process by automatically removing sleeves from the liner, opening them so a wire can be inserted, and applying them to the wire.



"This efficient, automated sleeve applicator eliminates the tedious task of hand-applying hundreds of wire sleeves, giving workers more time to focus on other important tasks," says Chris Gauthier, regional product manager, Wire ID for Brady. "Anyone who frequently uses and applies wire sleeves will enjoy the ease and speed of the BSP45 applicator. It was developed to improve processes for intensive wire sleeve users, such as harness shops and panel builders, in the aerospace, defense, rail, and chemical, oil and gas industries."



The BSP™45 Automated Sleeve Applicator eliminates the repetitive task of manual application that can lead to bottlenecks and repetitive motion injuries. In addition, it applies sleeves up to 6-10 seconds faster than manual labeling, which leads to saved labor and time resources. With a durable construction, the BSP45 applicator is designed for high-volume, long-term use.



Learn more at BradyID.com/BSP45.



For More Information

For Brady's complete product offering, visit BradyID.com.



About Brady Corporation:

Brady Corporation is an international manufacturer and marketer of complete solutions that identify and protect people, products and places. Brady's products help customers increase safety, security, productivity and performance and include high-performance labels, signs, safety devices, printing systems and software. Founded in 1914, the Company has a diverse customer base in electronics, telecommunications, manufacturing, electrical, construction, medical, aerospace and a variety of other industries. Brady is headquartered in Milwaukee, Wisconsin and as of August 1, 2015, employed approximately 6,400 people in its worldwide businesses. Brady's fiscal 2015 sales were approximately $1.17 billion. Brady stock trades on the New York Stock Exchange under the symbol BRC. More information is available on the Internet at www.bradycorp.com.



Media Contact:

Casey Schaak

(414) 438-7029

Casey_Schaak@bradycorp.com



Product Contact:

Chris Gauthier

(414) 438-7043

Chris_Gauthier@bradycorp.com

More from Electrical Equipment & Systems