Automated Pipetting System minimizes human error.
Press Release Summary: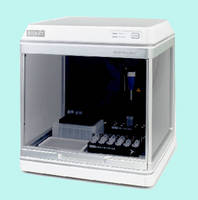 Featuring fully electronic air displacement pipetting operation, Roboline(TM) can pipette any combination of columns, rows, single wells, or entire plates. Closed environment protects reagents and samples from contamination. System is capable of forward/reverse pipetting, multiple dispensing, and diluting volumes from 5-200 µl using liquid level sensing. In addition, Roboline helps minimize repetitive strain injuries and exposure to harmful or toxic solutions.
---
Original Press Release:

Automate Your Pipetting with the Biohit Roboline(TM)



From the global leader in the design of ergonomic and innovative pipetting solutions, Biohit announces the new Roboline(TM) automate. The Roboline is the ideal solution to automating your pipetting work.

This small, quiet, and compact liquid handling automate is easy to place anywhere in the lab. Open programmability and the fast drag-and-drop function make the Roboline easy to use and suitable for a wide range of applications. With this companion you can simply automate a single task or an entire application. The robotic dispensing module guarantees that your results are accurate and precise without human error. In short, it has been designed with you in mind.

Roboline is the ideal companion to automate your pipetting:

Precise pipetting minimizing human error


Open programmability


Saves time and increases efficiency


Small footprint in the laboratory


Quiet and compact


Easy to use


Save your application and use it again - no need for reprogramming


Protects samples and reagents from contaminations

The Roboline is versatile and can pipette any combination of columns, rows, single wells, or entire plates, and the closed environment protects reagents and samples from any contamination.

The fully electronic air displacement pipetting operation produces error-free results, and is capable of forward pipetting, reverse pipetting, multiple dispensing, and diluting volumes from 5 to 200µl using liquid level sensing for error-free, small volume pipetting.

Additionally, the Roboline reduces Repetitive Strain Injuries (RSI) in the laboratory and decreases exposure to harmful or toxic solutions, making liquid handling safer. It is also environmentally-friendly with low energy consumption and a durable design.

Watch the new video and discover Roboline at www.biohit.com/roboline and contact richard.miceli@biohit.com with any inquiries.

For complete information on the Biohit Line in the North America contact:

Visit the Biohit website at: www.us.biohit.com.

For information Outside North America:
Visit the Biohit Group website: www.biohit.com

Biohit Inc. is a subsidiary of Biohit Oyj, a Finnish company that develops, manufactures and markets liquid handling and diagnostic products for use in research, health care and industrial laboratories. Biohit has a worldwide network of 450 distributors, including 7 subsidiaries, in 70 countries.

For all OEM inquiries on Biohit products, please contact Richard Miceli, email: Richard.Miceli@biohit.com