Automated Insertion Products accelerate pin-through-hole process.
Press Release Summary: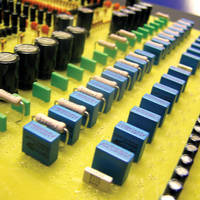 Automated Insertion (AI) products include Radial 88HT and VCD 88HT. While accommodating range of components on one machine with quad-span insertion tooling (2.5, 5.0, 7.5, and 10 mm), Radial 88HT radial inserter also addresses high-density applications with single-span insertion tooling. Programmable clinch height facilitates lead length optimization, sensitive component placement, and backside density conflict resolution, and Tall Part Kit enables placement of components as tall as 27 mm.
---
Original Press Release:
Universal Instruments' Generation 88HT Continues Tradition of Pin-Through-Hole Innovation
The automated insertion of Pin-through-hole axial and radial lead components remains a vital part of electronics manufacturing, and Universal Instruments Corporation's through-hole lineup continues its leadership position with the introduction of the Radial 88HT and VCD 88HT. Building on the lineage of Universal's highly successful Generation 88, the Generation 88HT is the next step in the product's evolution.

"The Radial 88HT and VCD 88HT offer higher output, an expanded component range, and an improved user experience when compared to our tremendously successful Generation 88 Automated Insertion (AI) products," said Universal Instruments Through-hole Marketing Director Scott Gerhart. "These enhancements are also available as an upgrade package for existing Generation 8 and 88 machines. We've maintained compatibility with Generation 88 and Generation 8 products in order to preserve our platform philosophy and ensure we provide our customers with best-in-class investment protection."

Companies the world over are seeking electronics assembly automation solutions that reduce dependence on labor, improve quality, and deliver a rapid return on investment. According to Gerhart, the Radial 88HT and VCD 88HT provide a 2X throughput increase over AI equipment installed just 10 years ago, making the replacement of existing assets a highly attractive investment with quick payback.

The Radial 88HT features capability enhancements that enable it to achieve high performance for a full range of production demands. It accommodates the industry's largest range of components on a single machine with quad-span insertion tooling (2.5mm, 5.0mm, 7.5mm, and 10mm), as well as addressing extreme high-density applications with single-span insertion tooling. The Radial 88HT is also the only radial inserter on the market with a programmable clinch height to facilitate the optimization of lead lengths, placement of sensitive components, and resolution of backside density conflicts. In addition, with an available Tall Part Kit, the Radial 88HT easily places components as tall as 27mm.

Generation 88HT maintains the popular features of the previous-generation machines, including easy-load dispense heads, 100+ feeder locations, and a component verification system that rapidly validates product setups to provide quick and easy changeovers in high-mix environments. Generation 88HT offers the flexibility to precisely meet requirements with configurations ranging from low-cost, manual-load with zero board transfer time to highcapability, CE-compliant automatic board handling.

"Universal continues to ensure its solutions meet our customers' needs today and into the future," said Gerhart. "We are pleased to launch our latest through-hole innovation, the Generation 88HT, which is ideally suited to address the needs of the growing LED, compact fluorescent, and energy-efficient lighting market segments, as well as power supply and consumer white goods electronics," he added.

To learn more about Universal Instruments' Generation 88HT machines and upgrades, contact Universal Instruments Corporation at +1-800-432-2607 or +1-607-779-7522 or visit www.uic.com for a complete list of our locations and channel partners.

About Universal Instruments
Universal Instruments is a global leader in the design and manufacture of advanced automation and assembly equipment solutions for the electronics manufacturing industry. Universal provides complete assembly lines to EMS providers, ODMs and electronics assemblers around the world, leveraging its portfolio of compatible and flexible equipment platforms that address the diverse requirements of high-speed chip and multifunction placement applications as well as component insertion. Universal Instruments is headquartered in Binghamton, N.Y., with offices in Europe, Asia, and the Americas.

Universal contact
Jeffrey Zopff
Global Marketing Communications Manager
Universal Instruments Corporation
33 Broome Corporate Parkway
Conklin, NY 13748
USA
Tel: +1 607 779 5364
Email: zopff@uic.com
www.uic.com
Related