Automated Fluid Dispensing Systems offer closed-loop encoding.
Press Release Summary: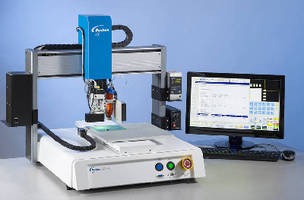 Designed to integrate into any manufacturing operation, PRO Series has smart vision CCD camera that captures detailed component part images and converts them into high-resolution digital files. PRO4L Series also includes laser height sensing that detects height variations on surface of product and makes corrections to dispensing height to prevent uneven deposits and tip/workpiece damage. With on-screen preview of dispensing path, DispenseMotion software facilitates set-up and programming.
---
Original Press Release:

Nordson EFD's New Automated Fluid Dispensing Systems Combine Precise Dispensing with Fast and Easy Programming



New PRO Series delivers complete, vision-guided automated dispensing solution



East Providence, RI USA – Nordson EFD, a Nordson company (NASDAQ: NDSN), the world's leading precision fluid dispensing systems manufacturer, introduces its new series of automated fluid dispensing systems for streamlined integration into any manufacturing operation. The PRO Series integrates vision and laser height sensing with closed-loop encoding to provide a complete automated solution that is quick to set up, easy to program and operate, and with advanced dispensing capabilities.



The PRO Series has a smart vision CCD camera that captures detailed component part images and converts them into high resolution digital files, a key feature that simplifies tedious programming. The vision system is integrated with EFD's new DispenseMotion™ software, specially designed for precise fluid dispensing.



The PRO4L Series also includes fully integrated laser height sensing that detects height variations on the surface of a product and makes corrections to the dispensing height to prevent uneven deposits and tip or workpiece damage.



The PRO Series' advanced vision-guided DispenseMotion software simplifies set-up and facilitates programming with an on-screen preview of the dispensing path. The dispense tip can be driven to the precise point needed. Tasks of importing and converting DXF, CAD, and Excel files are equally simple. True three-dimensional motion control allows easy programming of dots, lines, circles, arcs, compound arcs, and complex patterns.



"Nordson EFD's new PRO Series automated dispensing system 'thinks'," says Nordson EFD product manager Kelvin Fernandez. "Programming is going to be much faster, because it's simple to learn and it's easier to visually see your dispensing path as you set the parameters.



"And with the closed-loop system, it's constantly checking to make sure that your dispensing process stays in control," Fernandez says. "With the introduction of the PRO Series, EFD gives customers a breadth of new options and dispensing capabilities. The end goal is that customers will benefit from faster cycle times, reduced manufacturing and ownership costs, and the flexibility to use the same automated dispensing system in different production areas."



Nordson EFD's new systems are specifically designed and configured for precise fluid dispensing using EFD syringe barrel and valve systems. Platform sizes of 200x200, 300x300, 400x400, and 500x500 handle a broad spectrum of customer applications and can work as standalone systems or part of an automated solution. They are easily integrated into in-line transfer systems, rotary tables, and pallet assembly lines.



In addition to the PRO and PROL systems, EFD is also introducing its new E and EV automated dispensing systems. The EV Series includes a simple vision camera to support on-screen set-up, while the E Series relies on a Teach Pendant for dispense programming.



To help assist customers in evaluating the various options, Nordson EFD offers a complimentary assessment on which automated dispensing system may best meet their requirements. EFD's global technical dispensing labs, located in EFD offices around the world, can also videotape a customer's specific application and provide comparative data to their current dispensing process.



Nordson EFD will formally introduce its new automated fluid dispensing systems as part of a global release announcement during the Motek international trade fair, being held in Stuttgart, Germany, from October 6-9, 2014, in Hall 7 Stand 7228.



For more information visit Nordson EFD on the web at www.nordsonefd.com, www.facebook.com/NordsonEFD, or www.linkedin.com/company/nordson-efd, email info@nordsonefd.com, or call +1 401.431.7000 or 800.556.3484. For Nordson EFD LLC sales and service in over 30 countries, contact Nordson EFD or go to www.nordsonefd.com.



About Nordson EFD

Nordson EFD designs and manufactures precision fluid dispensing systems for benchtop assembly processes and automated assembly lines. By enabling manufacturers to apply the same amount of adhesive, lubricant or other assembly fluid to every part, every time, EFD dispensing systems are helping companies in a wide variety of industries increase throughput, improve quality, and lower their production costs. Other fluid management capabilities include high-quality syringe barrels and cartridges for packaging one- and two-component materials, along with a wide variety of fittings, couplers and connectors for controlling fluid flow in medical, biopharmaceutical and industrial environments.The company is also a leading formulator of specialty solder pastes for dispensing and printing applications in the electronics industry. 



About Nordson Corporation

Nordson engineers, manufactures and markets differentiated products and systems used for dispensing and processing adhesives, coatings, polymers, sealants and biomaterials; and for managing fluids, testing and inspecting for quality, treating surfaces and curing. These products are supported with extensive application expertise and direct global sales and service. We serve a wide variety of consumer non-durable, consumer durable and technology end markets including packaging, nonwovens, electronics, medical, appliances, energy, transportation, building and construction, and general product assembly and finishing. Founded in 1954 and headquartered in Westlake, Ohio, the company has operations and support offices in more than 30 countries. Visit Nordson on the web at www.nordson.com,   www.twitter.com/Nordson_Corp or www.facebook.com/nordson.



Nordson EFD, LLC



Global

Rhonda Mitchell

(401) 431-7065

Rhonda.Mitchell@nordsonefd.com



Headquarters

40 Catamore Boulevard

East Providence, RI USA



USA & Canada: 800-556-3484;

+1-401-431-7000

info@nordsonefd.com



Europe

+44 (0) 1582 666334

europe@nordsonefd.com



More from Health, Medical, & Dental Supplies and Equipment