Paper Cutters and Cutting Machinery
Automated Case Cutter handles 1,500 cases/hr.
Press Release Summary: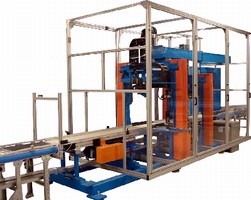 Designed for unattended operation, in-line Automated Case Cutting Machine can make 2, 3, or 4 sided cuts as well as staggered cuts to keep top of box on. It utilizes 360° rotating blade with quick-release head. Tilting, quick-release cutter facilitates blade changing and allows cuts of all angles. Supported by welded frame, machine includes touchscreen HMI, and is fully automatic using servo motors and sensors to measure boxes for random box opening.
---
Original Press Release:

Highest Throughput Automated Case Cutter - Worldwide!



Tri-Phase Automation introduces a 1500 case/hr machine that can do the work of 5 employees per eight hour shift! The all in-line machine utilizes long lasting, quick release rotating blade design. It is fully automatic and is designed for unattended operation. Available support - 24/7/365.

Automated Case Cutting Machine

Manual case cutting is getting a further look due to its inefficiency, damage to product and lost time due to injuries (cutting, transporting and moving product). *"The Food Marketing Institute whose members operate approximately 26,000 food stores nation wide, concluded that the food industry alone sustains over $6 billion each year in damaged goods caused by manual box cutting." Additionally, "retailers use a chargeback system in which they set aside $10,000-$30,000 for each lost time injury." Our automated case cutter cuts the tops of boxes at a rate of 1300-1500 cases an hour, and can do it without ruining the integrity of the product inside and without harming any operator.

The Return On Investment on the automated case cutter, depending on the number of employees cutting boxes is typically 6-12 months. The output of one automated case cutter equals the work of 120 man hours of box cutting per day. Mathematically it does the work of 5 employees/day (40 hours x 3 shifts=120 man hours). The cuts that the machine makes, can be two, three or four sided and be staggered to keep the top of the box on.

The high speed blade design utilizes a 360 degree rotating blade with a quick release head. Our tilting quick release cutter eases blade changing (less than 30 seconds) and also allows for cuts of all angles. The heavy duty blades can be sent back for sharpening to minimize operating costs.

To maintain the durability and sustain the throughput, the in-line machine is supported by a welded frame, utilizes a touchscreen HMI, is fully automatic using servo motors and sensors to measure boxes for random box opening. A standard 2 year warranty is offered on the automated case cutter.

The case cutter may be modified to better fit your company's specific needs and it may be purchased or leased. Contact us to find out if you are a candidate and what option best fits your needs at tri-phase.com.

*More Than a Cut Above, By Jerry Laws, October 2005

More from Controls & Controllers