Autoclave sterilizes rice in pouches.
Press Release Summary: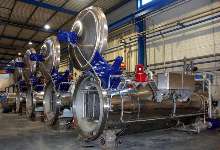 With diameter of ~70 in. and load capacity of 5 cells of stacked trays, forced steam circulation rotary autoclave is capable of sterilizing 2,400, 9 oz pouches of various products. Stainless steel trays include imprints that match shape of plastic pouches, holding them in place during rotation without possibility of distortion. Trays also have channels to optimize passage of steam and ensure homogeneous distribution of steam over each pouch.
---
Original Press Release:
LAGARDE Develops a Large Capacity Autoclave, Perfectly Suited for Sterilizing Rice in Pouches
Chicago, October 18, 2004 The French company LAGARDE recently developed a large capacity forced steam circulation rotary autoclave. With a diameter approaching seventy inches and a load capacity of five cells of stacked trays, the equipment is capable of sterilizing 2,400 nine-ounce pouches of various products. In particular, it has proven successful for sterilizing rice in plastic pouches. Already this year, about twenty autoclaves have been sold for rice in this type of packaging to major European companies active in the transformation of rice, semolina, and cereals. The use of this new rotary autoclave is indispensable for obtaining rice of an exceptional quality that does not have to be pre-cooked. It is only necessary to add the required amount of water and, if desired, various spices, aromatics and miscellaneous ingredients to produce each country's traditional recipe or exotic blend. Among other benefits, using the rotary autoclave enables major reductions in sterilization times to be achieved. In addition, its large capacity significantly decreases the number of traditional autoclaves that would normally be required and thus reduces investment costs. Another innovation from LAGARDE is the development of special stainless steel trays for this autoclave. These trays include imprints that match the shape of the plastic pouches. Pouches are held precisely in place during rotation and no distortion is possible, which enables large sachets to be processed with complete rotation. These steel trays have channels optimizing the passage of steam in order to ensure that a perfectly homogeneous distribution of steam over each pouch is obtained. LAGARDE is the world renowned specialist in the manufacture of cooking, pasteurization and sterilization autoclaves for food and pharmaceutical products in all types of packaging: tins, glass jars, plastic bottles, aluminium trays, and plastic pouches with or without bellows. All sectors of activity are addressed, particularly cooked dishes, seafood, milk, meats, fruit and vegetables, pet food, etc. LAGARDE autoclaves can be produced to operate with several different processes such as steam, hot cascading water, and hot water spray as well as the complete water immersion process. More than 2,600 of its autoclaves are currently in service in over seventy countries. LAGARDE is currently seeking business contacts in both the United States and Canada. For more information, please contact: Mr. Rodrigo MARQUEZ LAGARDE Z.I. Les Plaines 26780 MALATAVERNE, FRANCE Tel.: (011.33) 4 75 90 58 58 Fax: (011.33) 4 75 90 58 48 E-mail: lagarde@lagarde-autoclaves.com Web: lagarde-autoclaves.com or FRENCH TECHNOLOGY PRESS OFFICE 205 North Michigan Avenue, Suite 3740 Chicago, IL 60601 Tel: (312) 327-5260 Fax: (312) 327-5261 E-mail: contact.ftpo@ubifrance.com
More from Architectural & Civil Engineering Products