Auto-Darkening Filter promotes visibility for welders.
Press Release Summary: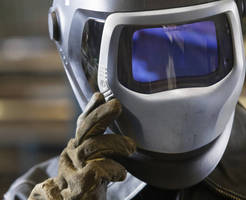 Equipped with optics that enhance detail, contrast, and color, Speedglas™ Auto-Darkening Filter (ADF) Kit 9100XXi improves experience for welders using 3M™ Speedglas Welding Helmet Series 9100. External grinding feature lets welders seamlessly switch into grinding mode. Also, welders can access 2 pre-set welding modes via external button on helmet's silver front panel; removal of safety gloves or helmet is not required. Grab and go feature automatically turns welding filter on to last setting.
---
Original Press Release:

New 3M Auto-Darkening Filter Gives Welders Superior Visibility



3M™ Speedglas™ Auto-Darkening Filter Kit 9100XXi offers more realistic color and detail



ST. PAUL, Minn. – When welders can't make out all the details or distinguish colors through the auto-darkening filter of a welding shield, it can make welding more challenging. To give welders superior visibility in both dark and light states, 3M has introduced the Speedglas Auto-Darkening Filter (ADF) Kit 9100XXi. The next-generation optics in the 9100XXi ADF provide more detail, contrast and natural-looking color to give welders greater precision and an overall improved welding experience.



"A welder's view with a conventional filter often appears dark, 'greenish' and devoid of contrast," said Joe Hockett, US Welding, Head & Face Marketing Manager, 3M. "With the 9100XXi ADF, welders have a new level of visibility and control. They'll have a vibrant, crisper view of the workpiece with a greater field of colors."



Because of the improved optics with the 9100XXi ADF, welders may experience better control of the weld puddle and more precise set-up and finishing operations. "It also may make it easier to distinguish the colored control panels on welding machines," said Hockett.



Complementing the filter's more realistic view is an external grinding feature that enables welders to seamlessly switch into a grinding mode. Welders can also access two pre-set welding modes by pushing the external button on the helmet's silver front panel – without having to remove their safety gloves or helmet. In addition, welders can leverage the "grab and go" feature, which automatically turns the welding filter on to the last setting The 9100XXi ADF is compatible with all welding helmets in the 3M™ Speedglas™ Welding Helmet Series 9100. Access to the grinding and memory modes requires the silver front panel included with the 9100XXi ADF kit. The silver front panel is compatible with the Speedglas welding helmets 9100, 9100 Air and 9100 QR.



3M offers a comprehensive, diverse portfolio of personal protective equipment solutions providing respiratory protection, hearing protection, fall protection, reflective materials for high-visibility apparel, protective clothing, protective eyewear, head and face protection, welding helmets, and other adjacent products and solutions, such as detection equipment, monitoring equipment, and active communications equipment. Visit www.3M.com/PPESafety for more.



About 3M

At 3M, we apply science in collaborative ways to improve lives daily. With $32 billion in sales, our 90,000 employees connect with customers all around the world. Learn more about 3M's creative solutions to the world's problems at www.3M.com or on Twitter @3M or @3MNewsroom.



3M and Speedglas are trademarks of 3M Company.

All other trademarks listed herein are owned by their respective companies.



Contact:

3M Media Contact

Tim Whalen

651-733- 5278



Claire Woit

PadillaCRT

612-455-1735

Claire.Woit@padillacrt.com

More from Architectural & Civil Engineering Products