Audio System provides wireless, room-to-room sound.
Press Release Summary: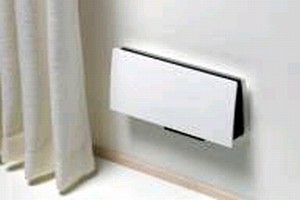 Operating on 2.4 GHz band, BeoLink Wireless 1 provides wireless transmission of quality audio between rooms with zero delay and no echo. Single transmitter can service up to 7 rooms, and system can manage up to 3 transmitters with 21 pairs of loudspeakers around house or building. Depending on placement and surroundings indoors, receiver and transmitter can be up to 100 ft apart. System can be placed on floor, shelf, or bookcase or mounted on wall brackets.
---
Original Press Release:

Bang & Olufsen Unveils its First Wireless Multi-Room Audio Solution in North America



ARLINGTON HEIGHTS, Ill., May 3 -- Bang & Olufsen, the worldwide provider of exclusive, high quality audio and video products, introduces its first multi-room wireless solution, BeoLink Wireless 1, which will be available in all North American stores this May 2006. With BeoLink Wireless 1, Bang & Olufsen sets a new standard for wireless audio solutions with its unrivalled performance and superior sound quality that can be seamlessly dispersed room to room, without any delay in sound distribution throughout an entire household, office building, and/or multi-unit development of choice.

Since the 1980's, Bang & Olufsen has pioneered the home integration sector with the introduction of its world renowned BeoLink network -- a completely integrated and intuitive multi-room music solution known for its high quality listening experience and extreme ease of use. Now with BeoLink Wireless 1, the entire BeoLink network can be offered as a wireless solution that doesn't compromise the sound quality without the need to draw cables from room to room.

"For BeoLink Wireless 1, Bang & Olufsen has chosen a mature wireless technology that can match three critical parameters: it is very robust, it has zero delay without any echo in its sound distribution, and it can distribute audio in up to 21 rooms in your home, all at the same time," states Torben Kyed, Product Manager of Bang & Olufsen. "By combining all three dynamic characteristics, we have aimed to produce the finest audio solution available on the market to date."

Ultimate Listening Experience
BeoLink Wireless 1 adds the convenience of wireless transmission of quality audio between rooms, replacing the Master Link cable in Bang & Olufsen's BeoLink concept. The only cables present are those drawn from the BeoLink Wireless 1 receiver to the loudspeakers placed in the room, which ensures optimal placement options that will avoid signal cancellation from intersecting transmitter signals.

BeoLink Wireless 1 works with all BeoLab loudspeakers, together with the stylish remote IR eye, which relays the signal to the loudspeaker. In addition, many older, classic Bang & Olufsen products not even sold today will still work in this wireless setup. The elegantly-shaped BeoLink Wireless 1 unit is available with a black or white finish, and can be placed on the floor, shelf or bookcase, or mounted on one of two wall brackets.

Easy to install
Each BeoLink Wireless 1 unit functions as both a transmitter and receiver. A single transmitter can service up to seven rooms (seven pairs of loudspeakers), and the system can manage up to three transmitters with 21 pairs of loudspeakers around the house. Depending on the actual placement and surroundings indoors, a receiver and transmitter can be up to 100 feet apart. The outside range is approximately 330 feet.

BeoLink Wireless 1 operates on the 2.4 GHz band, which is available worldwide, but is also used for many other devices (WLAN networks, Bluetooth telephones, microwaves, and so on). Therefore, Bang & Olufsen was challenged to find a technology that could meet its stringent requirements, while still being very robust against interference from other devices.

"BeoLink Wireless 1 is a solution that appeals strongly to those who do not wish to drill holes for cabling between rooms, and who do not wish to compromise on the quality of the audio experience," concludes Torben Kyed. "We expect this new product to appeal not only to many existing customers, but to help new customers appreciate the unprecedented transmission quality of our Link room solutions, expanding on our BeoLink concept."

"We believe BeoLink Wireless 1 will cater to many of our affluent customers in North America who enjoy a refined way of living and entertaining, also who seek limitless placement options with their audio equipment," states Kim Gravesen, President of Bang & Olufsen America, Inc. "Additionally, with our nationwide custom installation services, BeoLink Wireless 1 will further reduce installation time and allow for customers to bring CD-quality music to their favorite rooms that may have been incapable of an audio installation beforehand."

BeoLink Wireless 1 will be sold in all Bang & Olufsen stores in the US, Mexico and Canada this May 2006. Suggested MSRP is $450.00 for each receiver and transmitter unit.

For further information please contact Monica Gartner, Public Relations Manager, Bang & Olufsen America, Inc. at 847-590-4920 or mcy@bang-olufsen.dk

Bang & Olufsen A/S
Founded in 1925 in Struer, Denmark, Bang & Olufsen a/s is world renowned for its distinctive range of quality consumer electronic products that represents our vision: Courage to constantly question the ordinary in search of surprising, long lasting experiences. The Bang & Olufsen Group manufacturers a unique range of televisions, music systems, loudspeakers, telephones, medical and multimedia products. With more than 2,400 employees and products sold in more than 60 countries worldwide, Bang & Olufsen turnover for the 2004/2005 financial year was DKK 3,742 million (USD 608 million). Further information on Bang & Olufsen a/s is available on www.bang-olufsen.com .

CONTACT: Monica Gartner, Public Relations Manager of Bang & Olufsen America, Inc., +1-847-590-4920, or mcy@bang-olufsen.dk

More from Material Processing