Audio Op-Amp enhances professional audio equipment performance.
Press Release Summary: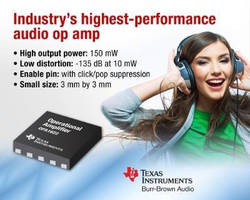 Available in 3 x 3 mm DFN package, Burr-Brown™ OPA1622 delivers up to 150 mW of output power and THD of -135 dB @ 10 mW. Quiescent current consumption is 2.6 mA/channel, and linear output current is 80 mA
RMS
. Conserving board space without compromising performance, power-supply rejection ratio (PSRR) of -97/-123 dBÂ @ 20 kHz enables low distortion from switching power supplies without LDO. Enable-circuitry design limits output transients when op-amp transitions into or out of shutdown mode.
---
Original Press Release:

TI Introduces the Industry's Highest-Performance Audio Operational Amplifier



Lowest distortion and noise, high linear output current, and low power push the boundaries for professional and portable audio



DALLAS – Texas Instruments (TI) (NYSE: TXN) today introduced an audio operational amplifier (op amp) that sets the latest standard in audio performance. The OPA1622 is the newest addition to the company's Burr-Brown™ Audio line and is the next generation of the widely adopted OPA1612. The new OPA1622 delivers high output power of up to 150 mW and extremely low distortion of -135 dB at 10 mW, enabling the highest performance for professional audio equipment.  The OPA1622's small size, low power consumption and low distortion can deliver high-fidelity audio in portable devices such as headphone amplifiers, smartphones, tablets and USB audio digital-to-analog converters (DACs). TI will demonstrate the OPA1622 at CES 2016. For more information, see http://www.ti.com/opa1622-pr.



Key features and benefits of the OPA1622 op amp



--  Pushes the boundaries of audio quality: Headphone amplifier designers can take advantage of its low total harmonic distortion (THD) of -135 dB at 10-mW output power into a 32-  load - 12 times better than the nearest competitor. It also delivers maximum output power of up to 150 mW before clipping while maintaining the lowest THD and noise (THD+N), providing a clean signal path for professional audio applications.

--  Optimized for high-fidelity portable audio devices: Consumes low quiescent current of 2.6-mA per channel and delivers high linear output current of 80 mA(RMS) in a small, 3-mm-by-3-mm dual flat no-lead (DFN) package. Additionally, the increased power-supply rejection ratio (PSRR) of -97/-123 dB at 20 kHz enables low distortion from switching power supplies with no low-dropout regulator (LDO), saving board space without compromising audio performance.

--  Unique pinout simplifies design and improves distortion performance: The OPA1622's ground-referenced enable pin is directly controllable from the low-power processor's general-purpose input/output (GPIO) pins without level-shifting circuits. Its innovative pinout improves printed circuit board (PCB) layout and enables exceptional distortion performance at high output power.

--  Eliminates audible clicks and pops: A unique enable-circuitry design limits output transients when the OPA1622 is transitioning into or out of shutdown mode.



Tools and support to ease design

A TINA-TI™ SPICE macromodel is available for the OPA1622 to help designers verify board-level signal-integrity requirements. A TI Designs - Precision reference design for voltage-output audio DACs will be available in 1Q16 to speed time to market for OPA1622-based headphone amplifier designs.



Technical support for the OPA1622 is available in the TI E2E™ Community Precision Amplifiers forum, where engineers can search for solutions, get help, share knowledge and solve problems with fellow engineers and TI experts.



Additionally, engineers can deepen their audio expertise with TI Precision Labs - Op Amps, TI's on-demand training series that covers a wide variety of topics, including low-distortion design and noise. The videos use a real-world circuit to teach designers how to achieve overall system-performance goals.



Package, availability and pricing 

The OPA1622 is available today in a 3-mm-by-3-mm DFN package for US$2.90 in 1,000-unit quantities.



Recommended companion devices 

To create a high-performance audio signal path, system designers can combine the OPA1622 with TI's PCM1794A Burr-Brown Audio stereo digital-to-analog converter (DAC). Other companion devices include TI's TPS65133 and TPS65132 split-rail converters, which supply power in portable audio applications.



Hear the difference at CES 2016 

CES 2016 attendees will be able to hear the audio quality provided by the OPA1622 in TI's high-fidelity headphone amplifier comparison demonstration, which enables listeners to select from a variety of amplifier options. The demonstration will be featured in the TI Village, located in rooms N115-N120 at the Las Vegas Convention Center's North Hall.



Learn more about TI's precision amplifiers:

--  Learn more about TI's precision amplifier portfolio and find technical resources.

--  Download the "Analog Engineer's Pocket Reference" for frequently used system- and board-level design formulas (myTI login required).

--  View TI's entire audio portfolio with the audio selection tool.



About Texas Instruments

Texas Instruments Incorporated (TI) is a global semiconductor design and manufacturing company that develops analog integrated circuits and embedded processors. By employing the world's brightest minds, TI creates innovations that shape the future of technology. TI is helping more than 100,000 customers transform the future, today. Learn more at www.ti.com.



Trademarks 

Burr-Brown, TI E2E and TINA-TI are trademarks of Texas Instruments. All other trademarks and registered trademarks belong to their respective owners.



Web Site: http://www.ti.com

More from Laboratory and Research Supplies and Equipment