Audio CODEC features ultra-low power design.
Press Release Summary: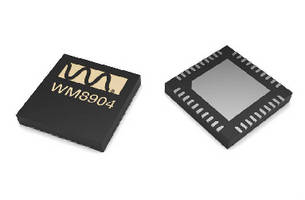 Equipped with Class W headphone and line drivers, Model WM8904 extends playback time in portable applications, such as media players, headsets, and multimedia phones. SmartDAC(TM) technology enables DAC to headphone power consumption of 4 mW and delivers up to 30 mW per channel into headphone load. By incorporating clamp and sequencer circuitry, SilentSwitch(TM) technology provides pop-and-click suppression. Retune(TM) Mobile parametric equalizer enables customization of output signal path.
---
Original Press Release:

Wolfson Launches World's Leading Ultra Low Power Audio Device



Edinburgh, UK, - Wolfson Microelectronics (LSE:WLF.L), today announces the launch of the WM8904, the world's leading ultra low power CODEC with Class W headphone and line drivers, designed to offer low power consumption and significantly extend playback time in portable applications, such as media players, headsets, voice recorders and multimedia phones.

The WM8904 is part of Wolfson's family of next generation ultra low power audio hub codecs and delivers high performance audio and market leading power consumption in an ultra slim, low profile form factor.

Incorporated within the WM8904 is Wolfson's Class W amplifier technology, which intelligently tracks the actual music signal level and uses an adaptive dual drive charge pump to optimize power dissipation. The ground referenced output also eliminates the need for large DC blocking headphone capacitors, resulting in improved bass response, and significant savings in PCB space and the audio subsystem bill of materials (BOM).

Also featuring in the WM8904 is Wolfson's innovative SmartDAC(TM) technology, a unique low power DAC capacitor switching architecture, which enables DAC to headphone power consumption of just 4 mW and delivers up to 30 mW per channel into a headphone load.

Audio performance is significantly enhanced with the integration of Wolfson's innovative SilentSwitch(TM) technology, which extends its 'pop and click' suppression capability by incorporating sophisticated clamp and sequencer circuitry. With this feature, unwanted noise at the headphone and line outputs is reduced during power-up/down and mute/un-mute by clamping the output to ground. Using an integrated control write sequencer with programmable delay times to power-up and power-down parts of the WM8904 further reduces 'pops and clicks', as well as reducing time to market by lowering software driver development time.

The WM8904 incorporates an advanced Dynamic Range Controller (DRC) which enhances audio performance. When in record mode the DRC can be flexibly configured to optimize recorded sound quality, preventing distortion whilst maximizing the recorded signal. Wolfson has also implemented a 'quick release' feature that enhances the intelligibility of recorded sound in the presence of loud impulse noises. This feature ensures that noisy events such as user handling do not mask the recorded signal. In playback mode, the DRC maximizes the volume of the output signal, boosting the perceived loudness of the audio data.

Wolfson's innovative RetuneTM Mobile parametric equalizer is a powerful feature which enables system designers to accurately customize the output signal path to optimize the performance of the speaker or other transducer. Line inputs, along with digital and analogue microphone inputs, are all supported, with bypass paths to the class W headphone and line outputs. The WM8904 is available in two compact package options including an ultra-small 2.6 x 2.5 mm CSP.

Duncan Macadie, Wolfson's Low Power Audio Product Line Manager said: "The WM8904 delivers ultra low power consumption in all modes. Wolfson's focus on battery life, without compromising hi-fi audio performance, when operating with real audio signals is unparalleled in the industry. The WM8904 delivers an optimal combination of audio performance, power consumption, package size and total solution cost, making it ideal for a wide range of portable multimedia applications."

Availability

The WM8904 is available for sampling now in a 32-lead 4x4 mm QFN, 36-ball CSP package. For 1k quantities, the WM8904 is priced at $2.14.

WM8904 customer evaluation boards with the Wolfson Interactive Setup and Configuration Environment (WISCE(TM)) are available to aid device evaluation and development. WISCE(TM) connects to the evaluation board over USB and offers a unique interactive register map interface. This interface provides unprecedented control and overview of the device settings.

About Wolfson Microelectronics

Wolfson Microelectronics plc is a global leader in the supply of high performance, mixed-signal semiconductor solutions to the consumer electronics market. In the home, in the office and on the move, Wolfson's innovative technology can be found at the heart of the world's leading digital consumer goods, including premier hi-fi equipment, mobile phones, mp3 players, flat panel TVs, digital still cameras and portable navigation devices.

Wolfson is committed to the design and supply of ground-breaking products, including ultra low power and high performance audio devices, silicon microphones, power management IC's and noise cancellation solutions, all of which come together in the Wolfson AudioPlus(TM) portfolio. This rich portfolio allows Wolfson's global customers to better differentiate their digital consumer products and create whole new end-user experiences.

Wolfson has blended together many of its successful audio components to develop an architecture-defining family of mixed-signal hub solutions. These feature-rich hubs deliver world-class audio performance, significantly enhance battery life, provide longer music playback time, and offer more end-user features at a lower total cost - all of this whilst enabling designers to optimally manage the complex world of multiple concurrent use cases.

The company's headquarters is located in Edinburgh, UK. Wolfson's customers are located worldwide, and so is Wolfson, with design centers, sales offices, applications teams and engineering expertise across Europe, the US and Asia. Wolfson Microelectronics plc is listed on the London stock exchange (LSE: WLF.L).

For more information about Wolfson Microelectronics, please visit:
www.wolfsonmicro.com or sign up for Wolfson eNews at:
www.wolfsonmicro.com/enews

Contact:

Laura Moore

Wolfson Microelectronics plc

Tel: +44 (0) 131 272 7000

Email: laura.moore@wolfsonmicro.com

More from Computer Hardware & Peripherals