Audio Amplifiers deliver 1.3 W continuous average power.
Press Release Summary: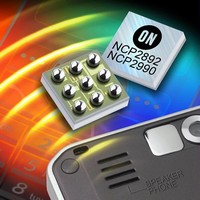 Suited for cell phones and PDAs, Models NCP2892 and NCP2990 produce zero pop-and-click noise with differential and single-ended audio inputs, respectively. Audio power amplifiers offer turn-on time down to 15-30 msec and can be connected directly to battery. Using 1 µF bypass capacitor, NCP2892/990 offer 100 and 60 msec wake up times. Devices feature 10 nA current shutdown mode, 2.2-5.5 V operation, and up to 1.0 nF capacitive load driving capability.
---
Original Press Release:

ON Semiconductor's New Audio Power Amplifiers Deliver Fast Turn-on Time and Zero Pop-and-Click Noise for Portable Communication Devices



Capable of delivering 1.3 watts of continuous average power, the NCP2892 and NCP2990 provide high quality audio and minimal power consumption

CPS Expo 2006 - Shanghi, China - Nov. 1, 2006 - ON Semiconductor (Nasdaq: ONNN), a leading global supplier of efficient power management solutions, today introduced two new audio power amplifiers capable of delivering higher output power than previous generations.

The NCP2892 and NCP2990 are 1.3 watt (W) audio amplifiers that feature fast turn-on time and minimal power consumption. Designed for portable communication devices requiring quality audio, these devices produce zero pop-and-click noise. The NCP2892 is optimized to eliminate pop-and-click noise with differential audio input while the NCP2990 demonstrates the same zero pop noise feature with single-ended audio input. These new audio amplifiers are ideal for cell phones and PDAs.

"ON Semiconductor continues to expand its audio amplifier portfolio to meet customer demand for high performance solutions that incorporate valuable end-product benefits - such as battery life conservation, fast turn-on times and elimination of unwanted noise," said Hyung-Sup Kim, ON Semiconductor's director for the Consumer Products Division. "The portable electronics market is highly competitive, with fast turn-around design times and frequent upgrades to the final handheld products. By working closely with our customers, ON Semiconductor is able to deliver targeted solutions."

For maximum design flexibility, the NCP2892 and NCP2990 feature an externally controlled turn-on time. When using a 1 microfarad (μF) bypass capacitor, the NCP2892 offers 100 millisecond (ms) wake up time. Both devices offer minimum turn-on time down to 15 ms to 30 ms. The NCP2892 and NCP2990 devices can be connected directly to the battery, eliminating the use of an LDO or dc-dc converter and offering a cost effective solution.

Features
o External Turn-On Time Settings: 60 ms and 100 ms (with 1 μF Bypass Capacitor)
o 1.3 W to an 8.0 ohms (Ω) Load from a 5.0 V Power Supply
o Excellent PSRR: Direct Connection to the Battery
o Ultra Low Current Shutdown Mode: 10 nA
o 2.2 V to 5.5 V Operation
o External Gain Configuration Capability
o Up to 1.0 nF Capacitive Load Driving Capability
o Thermal Overload Protection Circuitry

Both the NCP2892 and NCP2990 are offered in a lead free (Pb-free) 9-pin Flip-Chip package and budgetary priced between $0.44 and $0.45 USD per unit in 1,000 unit quantities.

For additional technical information visit www.onsemi.com, or contact Crystal Lam at Crystal.Lam@onsemi.com.

About ON Semiconductor
With its global logistics network and strong portfolio of power semiconductor devices, ON Semiconductor (Nasdaq: ONNN) is a preferred supplier of power solutions to engineers, purchasing professionals, distributors and contract manufacturers in the computer, cell phone, portable devices, automotive and industrial markets. For more information, please visit ON Semiconductor's website at www.onsemi.com.

Anne Spitza
Marketing Communications
ON Semiconductor
(602) 244-6398
anne.spitza@onsemi.com

More from Test & Measurement