Audible Exit Sign can help reduce evacuation time.
Press Release Summary: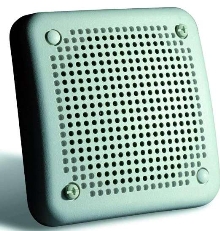 Installed near building exits or along egress routes, ONYX® ExitPoint(TM) acts as audible exit sign. Compact speaker produces broadband noise when triggered by building's fire alarm control panel, alerting building occupants to location of nearest exit using 4 field-selectable directional sound pulse patterns. Unable to be obscured by smoke, active warning system provides interactive guidance, generating noise at all frequencies across human hearing range.
---
Original Press Release:

NOTIFIER Introduces ONYX® ExitPoint(TM)


An Audible Exit Sign that Potentially Reduces Evacuation Times up to 75%

NORTHFORD, Conn. - NOTIFIER, a world leading manufacturer of commercial fire alarm technology and life safety systems, announces its ONYX ExitPoint audible exit technology. This latest advancement in life safety technology improves building evacuation and can potentially reduce evacuation times up to 75% - preventing injuries and saving lives.

ONYX ExitPoint is a compact speaker that produces broadband noise that is installed near building exits or along egress routes, acting as an audible "Exit" sign. ONYX ExitPoint is triggered by the building's fire alarm control panel, alerting building occupants to the location of the nearest exit using directional sound- a completely new technology in fire safety.

Currently all types of exit marking such as emergency lighting, signage, and photo luminescent guidance strips are visual in nature. However, visual aids can easily be obstructed by smoke and can be difficult to find in crowded areas such as airports and shopping malls. Also visual markings are passive, so people have to find them. They do nothing to actively assist evacuation.

ONYX ExitPoint offers "interactive guidance" as it generates noise at all frequencies across the human hearing range. The source of broadband, directional sound is easily located by the human ear. The varying tones and intensities provide distinctive directional cues and do not conflict with traditional notification devices such as horns or bells. ONYX ExitPoint emits four different field selectable sound pulse patterns used to create an egress pathway out of a building and mark perimeter exits, defining an immediate escape route even when visibility is impaired. Additional pulse patterns can be added to alert building occupants that they are approaching a stairway and need to proceed either up or down.

ONYX ExitPoint goes much further than just marking exits. ONYX ExitPoint is a new technology for guided egress through Directional Sound

NOTIFIER is part of the Honeywell (NYSE: HON) Life Safety Group, an industry leader in providing commercial fire alarms, advanced detection and notification products, and home patent remote tracking.

Honeywell International is a $25 billion diversified technology and manufacturing leader, serving customers worldwide with aerospace products and services; control technologies for buildings, homes and industry; automotive products; turbochargers; and specialty materials. Based in Morris Township, N.J., Honeywell's shares are traded on the New York, London, Chicago and Pacific Stock Exchanges. It is one of the 30 stocks that make up the Dow Jones Industrial Average and is also a component of the Standard & Poor's 500 Index. For additional information, please visit www.honeywell.com.

NOTIFIER, the world's leading manufacturer of commercial fire alarm systems, is part of Honeywell's Fire Group. NOTIFIER is headquartered in Northford, Connecticut, where it operates in a 302,000 square-foot state-of-the-art manufacturing facility. For more information on NOTIFIER and its products, please call (203) 484-7161 or visit their website at www.notifier.com.

Related