ATX Motherboard provides computing speed up to 3.8 GHz.
Press Release Summary: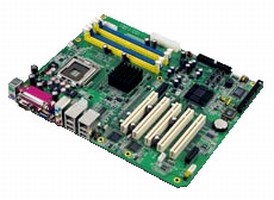 Industrial-grade Model AIMB-760 is equipped with Intel LGA775 socket Pentium 4/Celeron D processors with processing speeds up to 3.8/3.06 GHz and L2 cache up to 2 MB. Incorporating Intel's 915GV chipset, board supports FSB running at 400 MHz/800 MHz and provides 4 GB of dual channel DDRII 400/533 SDRAM, which allows memory bandwidth up to 8.5 GB/s. Additional features include dual PCI Express Gigabit Ethernet, 4 Serial-ATA devices, and 8 USB ports.
---
Original Press Release:

New Advantech ATX Motherboard AIMB-760 Brings Superior Computing Capability



Irvine, CA, February 13, 2006 - Advantech today unveils a new Intel Pentium 4 processor-based industrial ATX motherboard, AIMB-760. Built-on Intel LGA775 architecture, the AIMB-760 features optimal computing speed up to 3.8 GHz and supports high capacity dual channel DDRII 400/533 memory. It also comes with advanced I/O capabilities such as dual PCI Express Gigabit Ethernet, four Serial-ATA devices, and eight USB ports. With flexibility for card expansions and long term support, the AIMB-760 is best fit for customers who are using off-the-shelf products but require industrial features for data intensive business and gaming applications. The AIMB-760 is available at the end of February, 2006.

The Forefront of High-End Performance
Designed for performance-demanding applications, the AIMB-760 is an industrial-grade ATX motherboard supporting Intel LGA775 socket Pentium 4/Celeron D processors with processing speeds up to 3.8 / 3.06 GHz and L2 cache up to 2 MB. Incorporating Intel's 915GV chipset, the AIMB-760 supports a Front Side Bus running at 400 MHz / 800 MHz and offers a maximum memory capacity of 4 GB of dual channel DDRII 400/533 SDRAM, which allows greater memory bandwidth up to 8.5 GB/s. In addition, the AIMB-760 performs a cost-effective graphic solution with integrated VGA controller which delivers superb media and 3D capabilities with sharing memory up to 128 MB.

Advanced I/O Capabilities
To satisfy expansion capacity requirements for industrial applications, the AIMB-760 comes with five 32-bit, 33-MHz PCI slots and one PCI Express slot for legacy or advanced add-on cards. The AIMB-760 provides an exciting intensive industrial network solution that implements PCI Express host interfaces for dual Gigabit LANs. Each PCI Express x1 bus offers up to bandwidth of 500 MB/sec which eliminates bottleneck of network data flow and incorporates Gigabit Ethernet to operate at 1000 Mbps. In addition, the AIMB-760 has multiple high performance onboard I/O capabilities, such as eight USB 2.0 ports and four Serial ATA ports with the high-speed data transfers at 150MB/s.

AIMB-760 is enhanced with several impressive industrial computing features such as a watchdog timer, long Mean-Time-Before-Failure (MTBF), and CMOS data backup. To prevent overheating, the AIMB-760 features a thermal protection circuit that shuts the core processor down automatically if the cooling system fails. A remote management port helps monitor system health status and controls the system remotely through the SNMP/HTTP protocol in conjunction with Advantech's SNMP-1000 Intelligent System Manager. Top quality features and superior performance make the AIMB-760 the best choice for today's and tomorrow's cutting-edge applications.

Advantech Co., Ltd. (TAIEX: 2395) - Founded in 1983, Advantech is a global leading ePlatform service provider integrating web-based technology, computing platforms and customization services that empower the connected eWorld. Advantech cooperates closely with system integrators to enable them in providing complete solutions for a wide array of applications in various industries. Advantech delivers more than a thousand products and solutions under 3 main categories: Embedded & Applied Computing, Network Appliance, and eAutomation. With the combined talent of more than 2,000 people, Advantech operates an extensive support, sales and marketing network in 16 countries and 28 major cities to deliver fast time-to-market services to our worldwide customers (Corporate Website: www.advantech.com.tw).

Useful links

AIMB-760 Datasheet (PDF)
http://partner.advantech.com.tw/ePartner/Product/UnzipLit_New.asp?strRsDef=FIRST&TxtSearch2=AIMB-760&TxtSearch=Data Sheet&Image1=GO&Literature_ID=1%2D176RK4

AIMB-760 Website
http://advantech.com.tw/ePlatform/IPC/CMScontent.asp?doc_id={36163EB7-A719-4BBA-AFDA-0CC46A6CFD3

More from Optics & Photonics