Attaching Tool inserts fasteners through fabrics.
Press Release Summary: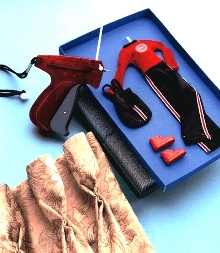 Portable MicroTach(TM) hand tool inserts 0.172 in. T-End fasteners through fabrics and paper or cardboard packaging, replacing thread, pins and metal staples. Fasteners can hold 2 pieces of fabric tightly together or secure fabric to packaging. Tool is made of polycarbonate material for use in factory environments. It is available with brush anvil, which can serve as firm fastening application surface.
---
Original Press Release:
New Avery Dennison Hand Tool Inserts Micro T-End Fasteners in Fabric and Packaging Materials, Replacing Thread, Pins, Metal Staples
Major applications include toy packaging, sewn-goods and textile operations FRAMINGHAM, Mass.--A new attaching system that inserts uniquely small T-End(TM) fasteners through fabrics and packaging materials is now available from the Fastener Division of Avery Dennison Retail Information Services. The product, called the AVERY DENNISON MicroTach(TM) Attaching System, is a patented, trigger-operated hand tool equipped with a small-diameter fine-fabric needle. It is designed for toy and crafts packaging applications; pleating operations in the sewn soft goods industry; and textile applications. The AVERY DENNISON MicroTach Attaching System applies strong, nylon T-End fasteners measuring .172 of an inch (4.4 millimeters) in filament length--the smallest T-End fasteners currently available from Avery Dennison. These fasteners can hold two pieces of fabric tightly together or secure fabric to paper or cardboard packaging. Depending on the application, MicroTach T-End fasteners can replace thread, metal staples, pins or other fasteners. "Fastener Division research and customer feedback clearly indicated the need for strong yet extremely small T-End fasteners," says Avery Dennison Fastener Division Marketing Manager John Earley. "The AVERY DENNISON MicroTach Attaching System was specifically designed to address this need." Because of their small size, MicroTach T-End fasteners are almost inconspicuous once they are applied. As a result, they do not detract from the appearance of packaged products. In addition, they can be used as temporary fasteners in assembly and manufacturing operations; after use, they can be easily removed without damaging fabrics or soft goods. (More information on major MicroTach applications appears below.) The portable MicroTach hand tool is made of tough polycarbonate material for use in factory environments. It is available with an optional brush anvil, which can serve as a firm fastening application surface. Toy and Crafts Applications A primary application for the AVERY DENNISON MicroTach Attaching System is toy and crafts assembly and packaging operations. For example, toy manufacturers normally employ thread to attach dolls and doll accessories to cardboard packaging. MicroTach T-End fasteners can replace thread in these applications, eliminating the time-consuming, labor-intensive sewing process. Soft Goods and Textile Applications Manufacturers of soft goods such as curtains often use metal staples as temporary fasteners to hold multiple pleats or folds together during sewing operations. Metal staples, however, can damage sewing machine needles, resulting in downtime and higher maintenance costs. In contrast, nylon MicroTach T-End fasteners will not damage sewing needles and can be left on or removed easily without tearing delicate soft goods or fabrics. (Microtach(TM) and T-End(TM) are registered trademarks of the Fastener Division of Avery Dennison Retail Information Services.) The Fastener Division of Avery Dennison Retail Information Services is a worldwide leader in the design, manufacturing and marketing of fastener systems and products for retail, apparel and packaging industry applications. The company is also the originator of the popular Swiftach and Plastic Staple fastener systems. Avery Dennison Retail Information Services offers worldwide solutions to industry for product identification. Products and services include Web-based supply chain management solutions, service bureaus, in-house imprinting systems and software, fully and partially preprinted tags, labels and label forms, sequential bar code tags and labels, electronic article surveillance (EAS) tags and labels, fastener products and consulting services. Major markets include retail, apparel, softlines and hardgoods. Manufacturers of soft goods such as curtains often use metal staples as temporary fasteners to hold multiple pleats or folds together during sewing operations. Metal staples, however, can damage sewing machine needles, resulting in downtime and higher maintenance costs. In contrast, nylon MicroTach T-End fasteners will not damage sewing needles and can be left on or removed easily without tearing delicate soft goods or fabrics. Photo Caption: The AVERY DENNISON MicroTach Attaching System inserts .172-inch-long T-End fasteners through fabrics and paper/cardboard packaging, replacing thread, pins and metal staples. (Photo courtesy of the Fastener Division of Avery Dennison Retail Information Services.)