ATTABOX Heartland Enclosures Used Successful by Redline Industries for 8 years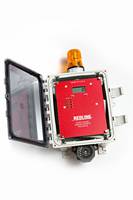 The many satisfied users of Attabox™ Heartland™ enclosures include Redline Instruments, leaders in product design and applications in the oil and gas industry. Primary Redline Instruments products include multi-channel monitors, alarms and sensors to detect gas leaks; plus sensors to detect potentially harmful or explosive chemicals.
More than eight years ago, Redline Instruments replaced its existing enclosure supplier because of sub-par product quality, and began using Heartland polycarbonate enclosures. Reasons why included the fact that polycarbonate was superior over metal for protecting wireless controls because metallic enclosures require external antennas to enable free transmission of Wi-Fi signals. External elements are subject to corrosion or other types of environmental damage, where-as polycarbonate enclosures enable reliable transmission of signals from an entirely contained, protected interior space. Heartland enclosures also were tough enough to withstand a variety of corrosive gases.
The Enclosure Store & More, online specialist provides immediately-available enclosures for diverse industries including this Heartland polycarbonate series.
The Heartland™ (AH) Series is a family of high performance, polycarbonate enclosures applicable for heavy industrial conditions, but with a refined style suitable for commercial, industrial and OEM design applications. The polycarbonate resin in the Heartland Series attained the best available "F1" rating, having passed critical tests for UV exposure and water immersion. Heartland Series enclosures are rain-tight and watertight rated for use in both interior and exterior applications. Material ratings, as well as product ratings, assure the user that polycarbonate is designed to perform, without adverse affects, in cold weather applications. Of significant protective value: corrosion-resistant polycarbonate can be effectively used across a wide range of aggressive environments. 
Heartland Series attributes include:
Latches and hinges do not penetrate enclosure
Easy to remove lid
High performance inserts
Integrated padlock hasp
Flush-fit side mount swing panel and DIN rail system
Molded in bosses
Multi-directional mounting feet
Available in standard opaque or clear cover options
Also available through the new The Enclosure Store & More website are a range of accessories including: back panels, DIN rails, hole plugs and vents, mounting parts, and swing panel kits.
The goal of The Enclosure Store & More is to provide users of industrial enclosures an opportunity to easily purchase, online, the best products with the highest quality and most competitive price. The Enclosure Store & More stocks a full line of Attabox polycarbonate and fiberglass industrial enclosures and related accessories available for quick shipping.
For more information on the Heartland:
https://www.theenclosurestoreandmore.com/product-category/enclosures/enclosures-heartland/
https://www.theenclosurestoreandmore.com/
More from Electronic Components & Devices