Atomizer suits automotive coating applications.
Press Release Summary: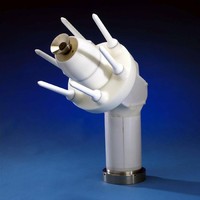 Automotive Finishing RMA-303 Indirect robot-mounted atomizer features titanium bell cup with up to 70,000 rpm rotation speed, and is suited for large volume coating operations. Color-coded tubing bundle allows for change-outs and operational efficiency. High voltage ring can be removed without disrupting the applicator for machinery maintenance.
---
Original Press Release:

The Robot-Mounted Atomizer for Superior Electrostatic Finishing



The ITW Automotive Finishing RMA-303 Indirect was designed with the needs of today's robotic process and coatings in mind, making it one of the most effective and versatile atomizers in the industry. It provides unparalleled operational output because its state of the art technology ensures superior performance with consistent, high quality results. The RMA-303 Indirect produces more efficient, effective, and economical large volume coating operations for automotive applications, as well as similar Tier 1 manufacturers.

Some beneficial features of the RMA-303 Indirect include the long lasting titanium bell cup that ensures a continual uninterrupted performance and the color coded tubing bundle allowing for easy change-outs and operational efficiency. The bell cup on the RMA-303 Indirect has rotation speeds of up to 70,000 rpm, achieving optimum atomization and versatility for today's coating materials. The atomizer also includes an easily removable high voltage ring that the operator can remove without disrupting the applicator, which simplifies machinery maintenance.

If you want state of the art technology and unparalleled electrostatic finishing, check out the RMA-303 Indirect today!

ITW Automotive Finishing and ITW Ransburg, Illinois Tool Works Companies, offer a variety of finishing products and systems, including electrostatic systems, electrostatic HVLP systems, automatic sprayguns, disks and bells, gun reciprocators, closed-loop fluid control systems, and system parts and accessories. Harold Ransburg first experimented with paint charging and surface grounding technologies in the 1930s, and patented the revolutionary electrostatic finishing process in 1941. Today, ITW remains an industry innovator and serves the global liquid electrostatic spray-finishing marketplace from their headquarters in Toledo, Ohio.


More from Software