Atlas® to Exhibit at European PV Show in Spain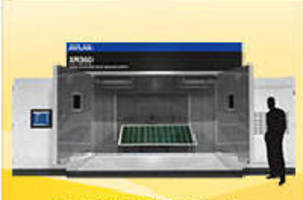 Current Trends in Weathering of PV Modules

Linsengericht, - Atlas MTT GmbH, a global leader in weathering durability testing equipment and services will be exhibiting together with their Spanish sales representative, Controltecnica Equipos Y at the 25th European Photovoltaic Solar Energy Conference and Exhibition (25th EU PVSEC), taking place September 6 - 9, 2010 in Valencia, Spain (booth D46).

Atlas will present a variety of products and services that support manufacturers of PV modules, raw materials and components. Come see for yourself how Atlas' solutions can help you answer the tough questions about material durability caused by the extreme influence of sunlight on PV products, which is essential to meeting product and performance claims.

Atlas will feature the following products and services at their booth:

SolarTest 1200 - Portable laboratory device that tests small-sized samples, it supplies a spectral distribution similar to the global radiation at air mass 1.5.

SUNTEST® XXL+ - Atlas' largest flatbed xenon instrument, perfect for crystalline and thin-film mini modules.

XR360 PV Module Weather Durability Testing System - Atlas' newest, innovative testing instrument for the PV industry, the XR360 integrates advancements in environmental chamber and xenon solar simulation technology. Available in three models, each with the capacity to test over 90% of current PV modules.

XenoCal® Solar - The XenoCal Solar sensor is an important tool to ensure that the light source used for PV preconditioning tests is within the specification.

Atlas 25PLUS - This program provides a crucial missing component to the IEC type design qualification tests by predicting the effects of long-term environmental exposure during the product's lifetime. Instead of comprising isolated, individual stresses targeted at infant mortality, Atlas 25PLUS consists of a series of combined stresses applied to PV modules, providing a true analog of the effects of long-term ageing resulting from exposure to the elements.

In addition, Dr. Olivier Haillant, a member of Atlas' Solar Energy Competence Center, will give a poster presentation entitled "Accelerated Weathering Testing to Predict the Environmental Durability of Organic PV Systems" during the 5th World Conference on Photovoltaic Energy Conversion (WCPEC-5) which will be held concurrent with the trade show (session reference: 4AV.3.1).

For further information about Atlas products and services please visit the Atlas booth, www.solardurability.com or contact Atlas directly at info@atlasmtt.de.

About Atlas Material Testing Technology

Atlas is a recognized leader in material testing, offering a complete line of instruments and services for accelerated and natural weathering. The Atlas Consulting Group helps clients develop the best weathering processes for their products, as well as offers education and training courses worldwide. For accelerated laboratory and outdoor testing, Atlas Weathering Services Group has five laboratories and over 20 outdoor exposure sites around the world in a variety of climates, including desert, subtropical, high-altitude and corrosive. Atlas Material Testing Technology is ISO 17025 and ISO 9001:2008 registered. Atlas products are designed and manufactured to conform to international, national and industry standard test methods including ISO, ASTM, DIN, JIS and numerous others.

More from Test & Measurement